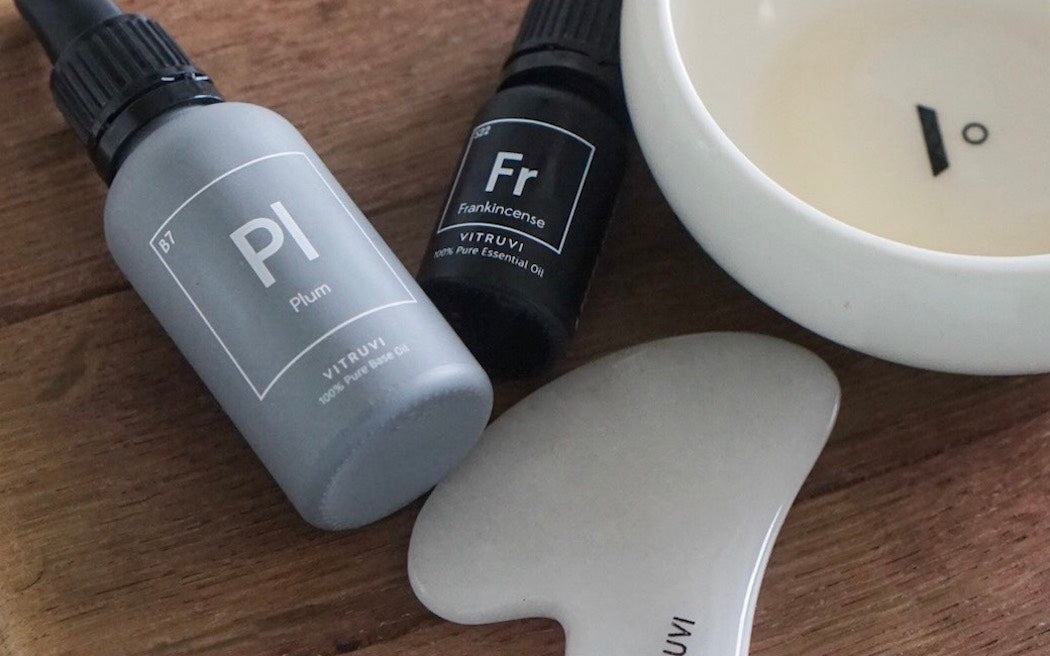 It's official: sweater weather is here, and it's not leaving anytime soon. With the dramatic drop in temperature, adjusting your skincare routine to include extra nourishment is key.
Lately, my skin has been very dry (thanks, evening vino), with a few minor breakouts making their lovely debut. My solution? Creating a dynamic face oil that replenishes the skin, tightens pores, and fights blemishes (trust me, it works wonders). Lucky for you, it's as basic as pumpkin spice.
NOURISHING AUTUMN FACE OIL
BASE OlL
16 droppers Plum Oil
ESSENTIAL OIL
6 drops Frankincense Essential Oil

How to use it
Mix the oils together in a 15-ml dropper bottle.

In the evening, apply five drops to your palms and gently pat the oil into your face.

Using an upward motion, gently massage the oil into your skin with a Gua Sha Tool. Complete your facial massage by bringing your tool toward your ears, then down your neck. Not only does this drain the lymphatic system, but it reduces inflammation, stimulates the immune system, and allows your skin to fully absorb the benefits of the oil.


Why we chose these oils
Plum Oil is the ideal carrier oil for Frankincense. It's super nourishing, non-comedogenic (meaning it won't clog pores), and it smells amazing.
As a natural astringent, Frankincense is great for reducing fine lines, tightening pores, and regenerating skin cells. It's also known to help fight acne, and the earthy scent is perfect for calming you down in the evening, easing stress, and promoting the best sleep (because we could all use a little more shuteye).
Now what are you waiting for? Bust out your glowing skin—it's time for cozy girl fall.