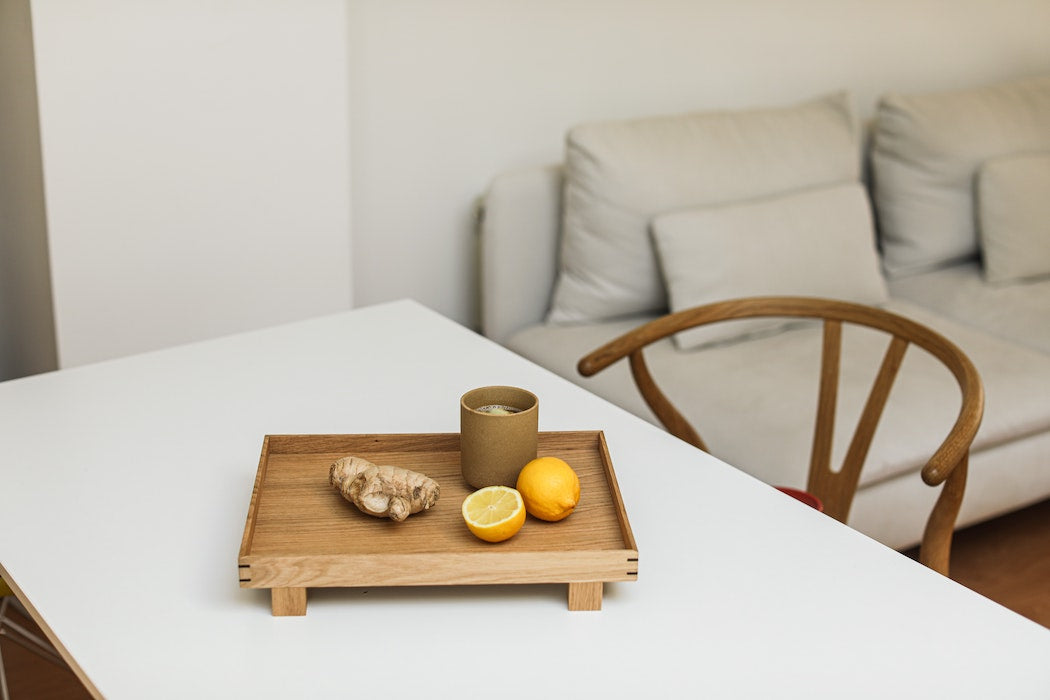 Wellness shots are small bottles of concentrated liquids that pack a big punch. They can help you focus on different health concerns, such as inflammation or immunity; they taste great; and they can be a fun part of your morning routine (and a great way to set the tone for the rest of your day). Will wellness shots solely overhaul your entire health? No—but starting your day hydrated and with extra vitamins and minerals is never a bad idea. Still, be sure to couple your shot with a balanced whole foods-based diet.
Wellness shots are just one tool we can use to live a healthy lifestyle. Often when we start our morning grounded and by putting our health first, the likelihood of that continuing throughout the day and making more mindful choices is much greater. Wellness shots are also a good way to use random ingredients that may be taking up fridge space, or to learn to incorporate ingredients you may not otherwise know how to consume in your diet, such as fresh aloe vera or beets.
What goes into a wellness shot?
Most people would agree that lemon and ginger wellness shots are abundant at your local health food store or popular breakfast joint. However, you can make them in minutes in the comfort of your own home—and at a fraction of the cost. Buy the ingredients in bulk (organic, if possible) and make your shot using just a blender (if you have a juicer, you're welcome to use that as well). Wellness shots should be made and consumed right away for the most nutritional value, but it's okay if you don't have time for that and want to make three or four days' worth at once.
Don't be afraid to experiment with ingredients. You may be surprised by what you enjoy the most, even if you don't love to eat the ingredient normally. It is always recommended to start with a duo to see what flavors work well for you. Just pick one fruit and one vegetable and then add ginger or a pinch of cayenne powder for a spicy kick, if that's what you like.
Fresh fruits and vegetables are full of vitamins and minerals and will have their own and overlapping health benefits. However, here are some examples if you are:
Looking to combat inflammation
Add fresh turmeric root. Turmeric contains the active compound curcumin, which can reduce inflammation in the body. For best absorption, try pairing it with foods that contain black pepper (for the piperine) and some healthy fats (because curcumin is fat-soluble). For example, avocado toast for breakfast sprinkled with salt and pepper. If you prefer, you can add a dash of pepper directly to your wellness shot. Note: turmeric's vibrant yellow color can stain your hands, blender, or clothing, so be extra careful when handling.
Looking to boost your immune system
Add fresh ginger root. Ginger is a powerful antioxidant and contains anti-inflammatory properties that may reduce pain, swelling, and inflammation in the body. Bonus: it can also help to settle your stomach when experiencing nausea or bloating. If you're sensitive to spice, try adding a knob or two instead of equal parts when making your wellness shot. Give your ginger a good wash and take off any visible imperfections, but you can leave most of the skin on and just chop it up as is.
Looking to improve your energy
Add leafy greens like spinach, chard, or kale. All of these are packed with B vitamins, iron, and antioxidants; they're perfect ingredients to have first thing in the morning to get you up and out the door.
Here are some ingredients for mixing and matching:
And here are three combinations to start with:
Pineapple, lemon, ginger.

Green apple, celery, lemon.

Beet, orange, ginger.


*Optional sweetener: maple syrup or liquid stevia (to taste).
Method
In a blender, add half a cup of cold filtered water (enough to get the ingredients well blended and make them drinkable) and your chosen two or three ingredients in equal parts (feel free to add a liquid sweetener of choice and adjust the proportions based on what you prefer).

Blend all of the ingredients on high for one minute.

Strain the contents of the blender using a cheesecloth or fine-holed strainer. You can compost the leftover fiber or save it to make a delicious homemade vegetable broth or juice-pulp crackers.

Enjoy the wellness shots right away or store in the refrigerator in a glass jar for up to four days.