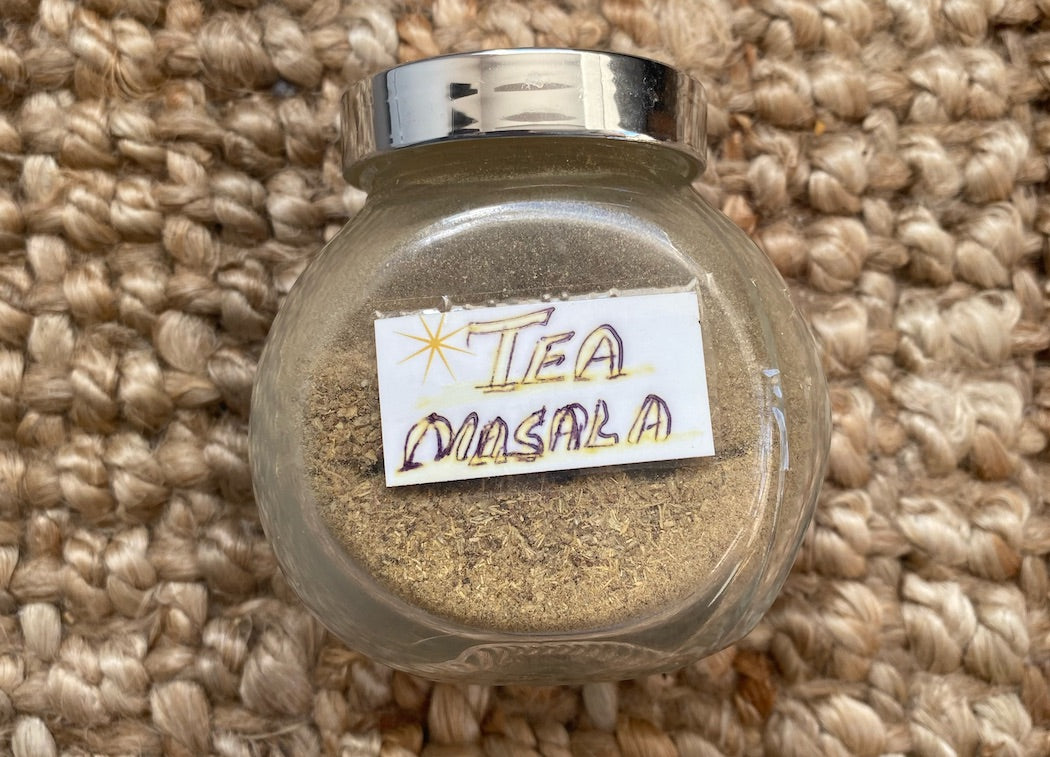 Suitcases: check.
Passport: check.
Visa: check.
Credit card: check.
Homemade jar of chai spices: check.


When I moved to Canada from England in 2018, I had all the essentials packed—including my jar of chai spice mix.
I remember laughing at my Masi's attempt at printing "tea masala" in English on a piece of tape; she carefully secured it to the front of the jar, just in case the customs guards stopped me and wanted to know what was inside.
A recipe that had been passed down in my family for generations was now in my very own second-generation British-Indian hands. I will share this with my very own children in the future, as will they with their children. And so on.
A cup of chai is my taste of home away from home—my sanctuary—and I treasure it like the Koh-i-Noor diamond.
I come from a huge Punjabi family, including 17 first cousins. I grew up in an intergenerational household consisting of my Baba-ji and Badi Mummy, who immigrated to England in the 1960s; my dad, who moved with them at the age of three; my mum, who grew up as a first-generation British-Asian in the 1970s; and my brother, who is six years younger than me. We all lived together under one roof. This is pretty common for Indian households.
As a teenager and young adult, I always felt I was too white to be brown, and too brown to be white. You could almost say I had two different identities, switching to the more "appropriate" one when necessary. One thing that always remained consistent in my household, though, was 4 p.m. "cha da cup" time. No matter our ages, beliefs, or opinions, our daily cup of tea united us all as one. Now when I look back, I realize it was so much more than a warm beverage—it was quality time through food. Because food equals love.
When I first moved to Canada—where I don't have any family—I was apprehensive to try Indian restaurants. I feared that the food would not be authentic or taste like home. I actively decided within the first few months that I would learn how to cook Indian dishes and treats in order to recreate the love my family shared with me. I used to groan when my grandma or mum would tell me that it was daal for dinner; these days, though, there is nothing more comforting than a bowl of midweek masoor ki daal. My mum and Badi Mummy ruled the kitchen at home, so I never really cooked Indian dishes in my youth. Still, I was always surrounded by food: people cooking it. People eating it. People telling me to eat it. I believe this is why cooking comes so naturally to me as I learn and recreate my family's dishes and traditions for myself. Of course, having my mum on FaceTime to guide me through it helps, too.
There is a saying in Indian culture that a cup of chai solves any problem. Feeling sad? Cup of chai. Feeling angry? Cup of chai. Hungry? Have a cup of chai first.
Now in my fourth year of living away from home, I can confirm that this theory is true. In particular, chai is my cure for homesickness. In just four minutes, I feel connected to my family more than ever, and the ocean that separates us no longer feels as overwhelming.
The process of brewing chai is my therapy. Inhaling the aromas of cinnamon, fennel, carom seeds, and cardamom swirling in the full-fat milk; never going easy on the sugar; attempting to drink it piping-hot with quick sips; the steaming liquid trickling down my throat and encasing my heart with a warm embrace.
Home is: a cup of chai.
Masi's Masala Chai Mix
Makes enough spice mix for about 15 to 20 cups.
Ingredients
1 tablespoon fennel

4-5 pods cardamom

1 pod brown or black cardamom

½ tablespoon carom seeds

½ teaspoon ginger powder or fresh ginger

4 whole cloves

4-5 black peppercorns

½ teaspoon cinnamon

Milk of choice (as desired)

Black tea bag of choice

Sugar to taste


Method
Crush all of the spices together until a powder is formed. No need to remove the cardamom skin.

Fill a mug of your choice with cold water (leaving room for the milk later).

Turn the stove on medium-high heat.

Pour the water into a pot with one black tea bag of your choice; I use English Breakfast PG Tips.

Add one teaspoon of masala chai mix to the pot. I also usually add one or two extra cardamom pods because I love the taste.

Add as much sugar as you'd like (optional, but it's always better sweet!).

Bring to a boil, and then add your choice of milk—as much or little as you'd like. I use full-fat milk.

Let it sit for another minute or so, then pour the tea into your mug using a strainer. This part is important, otherwise you'll get clumps of spices in your tea.

Sip and enjoy.