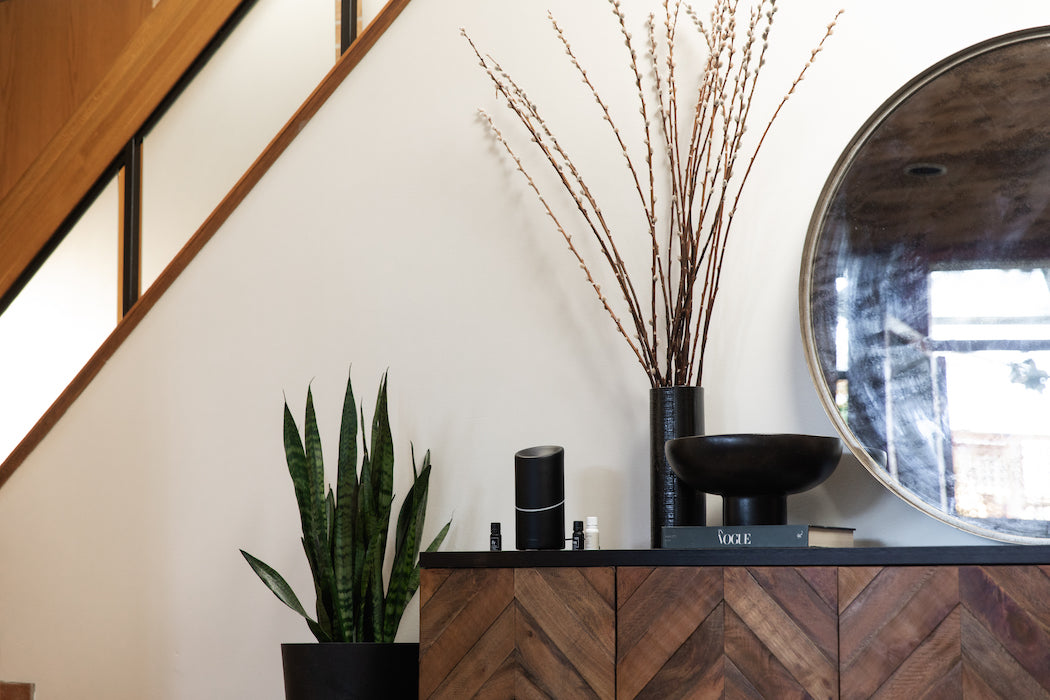 Scent changes the way you feel in a room. Whether you want something energizing, calming, or refreshing, diffusing essential oils instantly upgrades your space. 
If you're thinking about investing in an ultrasonic essential oil diffuser, here are a few things to know.
How does an ultrasonic diffuser work?
An ultrasonic diffuser uses vibrations (in the millions per second) to create the aromatic steam that you see come through its spout. This means that the water, inner plastic reservoir, essential oils are not heated while diffusing, and that the plastic does not interact with the essential oils. The benefit of this is a safer, more pure, and better-smelling aroma.
What kind of oils can I use in an ultrasonic diffuser?
We recommend using essential oils that are 100 per cent pure. This ensures that you are diffusing an all-natural, plant-based, and high-quality product that is safe to breathe in on a daily basis. Plus, pure oils just smell better.
You can put single origin essential oils into your diffuser (such as Lavender or Peppermint), or choose an essential oil blend (such as our best-selling Dusk).
Is an ultrasonic diffuser a humidifier?
Our ultrasonic essential oil diffusers were designed and built to diffuse essential oils, and cover approximately 500 to 700 square-feet of space, depending on the model you choose. Because they are ultrasonic, they do mist into the air and add some moisture to the surrounding environment—but not as much as a traditional humidifier. If you are using your vitruvi diffuser somewhere close to you, such as beside the bed while you sleep or on your desk while you work, the mist will be an added benefit, but it will not fill the room with moisture like a humidifier.
Where should I buy an ultrasonic diffuser?
We recommend our ultrasonic diffusers for their unparalleled beauty and quality. They work effectively, scent your space from AM to PM, and look great while doing it. Sounds pretty good, doesn't it?