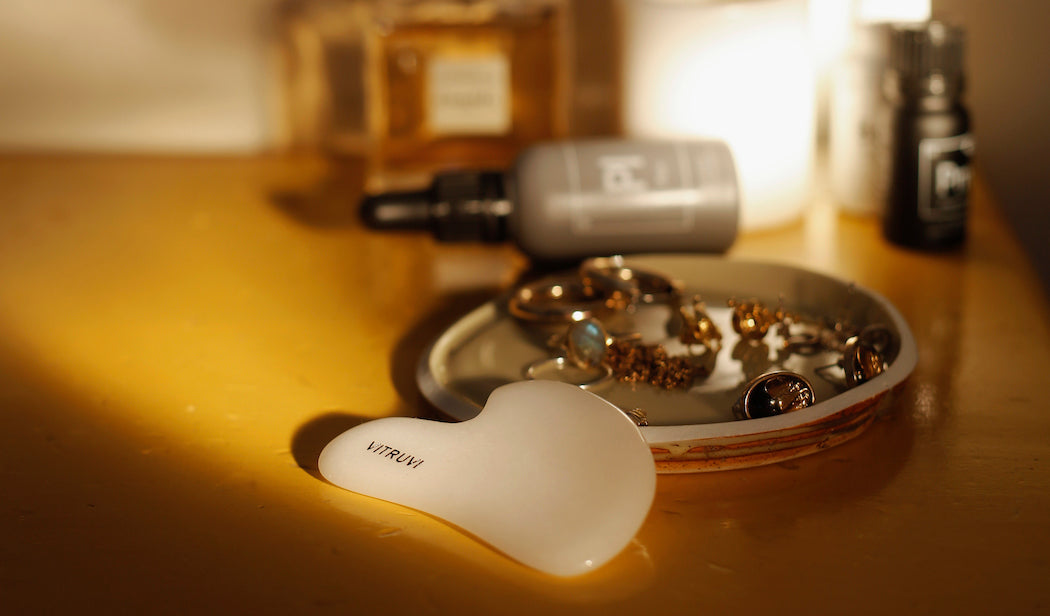 We're big fans of skincare chats at vitruvi—so much so that when I started putting together a story about everyone's routines, I realized I had enough for two separate articles. So here's part two (read part one here).
Sophie Armstrong, customer experience
Morning: "I usually don't use a cleanser, I just wash my face with warm water and then splash with cold water. And then every few days I use the Goop Exfoliating Instant Facial which I really like. I usually do that first and then I rinse that, and then do an apple cider vinegar toner which I made myself. It's got apple cider vinegar, aloe vera gel, and a few of our essential oils: Lavender and Eucalyptus. Then I've been using the Goop Revitalizing Day Moisturizer, which I like a lot, and I've been adding a few drops of our Plum Oil into that."
Evening: "I use a Vitamin A cleanser by Derma E; it's got glycolic acid in it and Vitamin A, so it's nice. I don't wear any makeup [Editor's note: she is gorgeous without makeup] so I don't really have to do a rigorous wash. Sometimes I use a dry brush—I have a Province Apothecary one that I really like. And then I use the Goop Replenishing Night Cream."
Sara Panton, ceo
Morning: "I just wipe my face with a warm cloth and Geranium Essential Oil and that's it."
Evening: "First I cleanse with either the Drunk Elephant Salaai Makeup-Melting Butter Cleanser or the Pekee Bar + Juju Bar. Then I use Geranium on a warm cloth and steam my face, and then if I've come off a plane, or every couple days, I use the Goop Exfoliating Instant Facial. Then I do a face oil that has Apricot Kernel, Jojoba, Geranium, Frankincense, Lavender, Seabuckthorn, Rosehip, and Blueberry Seed, and use the Gua Sha Tool to rub it in—and then I use facial cups to massage, especially if I've come off a plane. Then I do Rosemary on my brows, and I'll do Plum with the Gua Sha and the facial cups again before bed. I do a face steam in a bowl once a week, and I drink a ton of water. I use Lavender on any blemishes that I have, but honestly since using our oils and the facial massage tools, it has made such a difference." [Editor's note: her skin is a dream, so she must be doing something very, very right.]
Harrison Gill, design
"I wash morning and night using Arbonne, it's a deep cleanser. And then at night I use a face oil, it's Sweet Almond, a bit of Seabuckthorn, and a bunch of Tea Tree. Tea Tree helps with any blemishes. I use it on my neck area after I shave because that's the only place I break out. And that's about it. I don't use a razor anymore, I tried a five-blade, four-blade, went down to a two, and I always broke out. Now I use a one-blade electric one, it gets really close." [Editor's note: I have never seen his skin anything other than flawless.]
Chris Attadia, digital
[Editor's note: Chris got into skincare only a few weeks ago, after we all went for team facials at a Vancouver spot called Fig. "I loved it," he says of the experience. The facialist told him he should start exfoliating, so our colleague Simone helped him get a few products to begin with. You're doing great, Chris!]
"I use the Cetaphil Oily Skin Cleanser and cleanse right after my shower, morning and night. I usually shower twice a day because I usually do some kind of workout after work. Then I'll sometimes exfoliate, maybe every other day. I don't even cleanse every day because my skin feels so raw, it feels so clean [Editor's note: aw!]. I've never done it before, I've never cleaned my skin—even the Cetaphil's new. I've never used a cleanser before. So sometimes I feel like I don't want to keep scrubbing it. But I usually moisturize every day because it helps with my skin being super oily. And sometimes I put on my vitruvi face oil after I shave because it feels nice: Seabuckthorn, Grapeseed, Blueberry Seed, Cedarwood because it smells manly, and Sweet Orange for a little citrus and Vitamin C."
Matt Gwin, digital
Morning: "When I wake up in the morning I use Harry's The Truman razor with Harry's Shave Gel and then Harry's Post-Shave Balm, and then cleanse and moisturize using Cetaphil."
Evening: "Before I go to bed I always wash and cleanse my face, I don't really do anything else." [Editor's note: no worries, you're killing it.]
Belma Muminovic, customer experience
Morning: "In the morning I don't wash my face. I do the C-Firma Day Serum from Drunk Elephant, and then just Jouviance Hydractiv gel cream. It's a Canadian brand. And I have the Coola Rosilliance Organic BB+ Cream that's 30 SPF, so if I'm doing the C-Firma with Vitamin C, I'll do the BB cream after." [Editor's note: her skin is a glowy, dewy dream.]
Evening: "I do the La Roche-Posay Toleraine Dermo-Cleanser for gentle skin, and then I exfoliate with the Pixi Glow Tonic, which I really like; it's gentle enough with the glycolic, which is really nice. And then I mix our Plum Oil with Lavender Essential Oil and Evening Primrose Oil. Cake it on! After the oil I wake up with plump skin. If I'm extra dehydrated I'll do the Moisturizing Sorbet from Caudalie."
Jenna Vaandering, design
Morning: "I don't use a cleanser or anything, I just put water on my face, and then moisturize with the Philosophy Renewed Hope in a Jar. It has SPF 30 in it, so I put it on in the morning and I put some more on in the afternoon."
Evening: "At night if I'm being really good, I have a six-step system. It's the Philosophy Purity Made Simple Cleanser, then I use the Glossier Solution. It's my favourite product; I feel like my skin has vastly improved since I started using it [Editor's note: her skin is a dream, only matched by her sparkling personality]. It has AHA and BHA, they call it an exfoliator but it acts as a toner, it balances out skin tone and it takes out all the dead skin. Is good. So I let that dry, brush my teeth. Then afterwards I throw on a bit of Clinique eye cream that I got for free, then I use the matching pink Clinique moisturizer I also got for free [Editor's note: thank you, Bay Days!]. And then I put on one of our face oils—right now it's Apricot Kernel, Rosehip, Spruce, and Sweet Orange. I use that shit at night. Then I use our Gua Sha Tool. And then I'm done.
The most important thing about my skincare routine is that everything matches. I organize it by colour and brand [Editor's note: can you tell she's a designer?]. On my counter I have my Solution, which matches the pink of my Clinique moisturizer, which matches my Clinique eye cream. Then I have a little space, and then to the left is my Philosophy cleanser and SPF moisturizer, and then to the right I have my Indie Lee products that I don't use yet, because I'm trying to run out of the Solution first. And then I have my vitruvi face oil and Gua Sha Tool with its velvet pack."
Beauty is subjective, but one thing I think we can all agree on is that self-love is the most beautiful trait of all. These conversations are meant to be candid and cute, but not to encourage anyone to feel like they are not already gorgeous—with or without a facial exfoliator. Whoever you are, you're doing great.
---
These interviews have been edited and condensed.