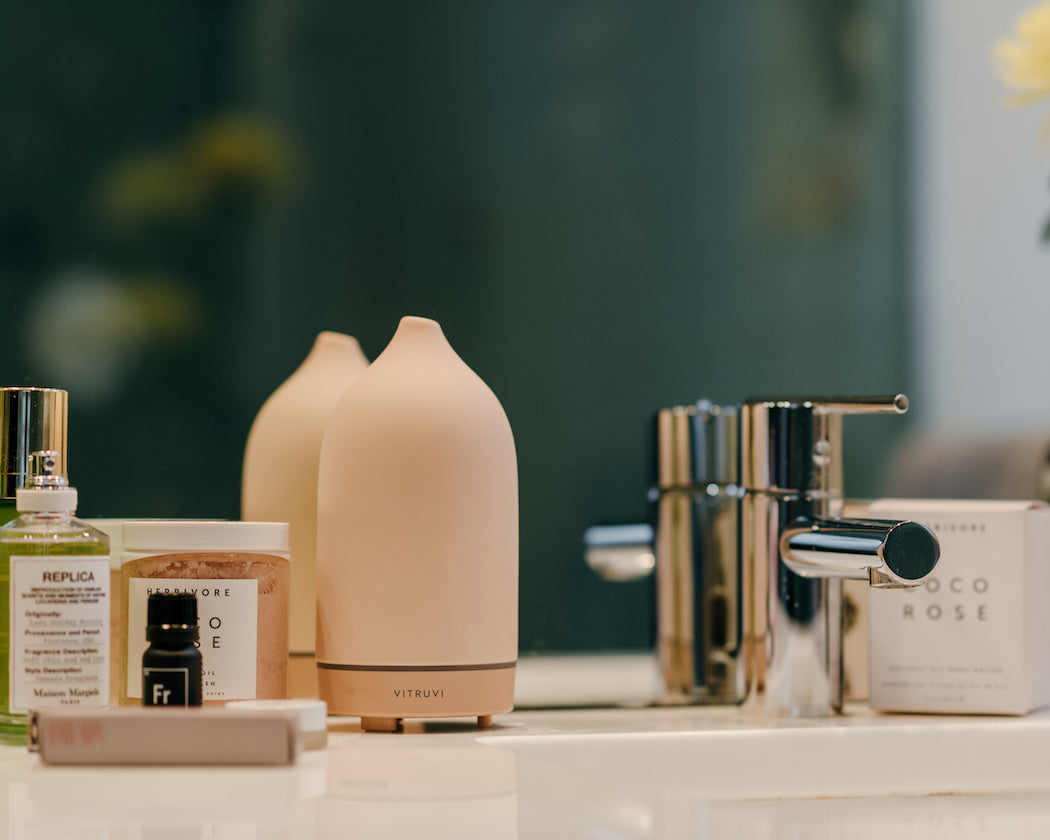 It seems like just yesterday that vitruvi became the first essential oil company to launch with Sephora. The Sephora website carries a selection of our essential oil product range, along with our diffusers.
It's an incredible partnership, and we're definitely still fan-girling over here because unsurprisingly, our team is Sephora-obsessed; there are frequent lunch trips to our nearest location to covet whatever product we read about on Into the Gloss or Byrdie. Here are some current office favourites.
I have red skin but don't like full-coverage foundation, and this cream has changed the makeup game for me! It is so light, doesn't make my face feel greasy, and lasts all day. It even has SPF 50 in it, so it keeps my fair skin protected from the sun, while evening out the tone. Obsessed!
Not only does this moisturizer have SPF 47 (and anyone who knows me knows I really love sunscreen), it also has a nice tint and leaves my skin super soft. The finish is amazing, so this is often the only thing I wear on my face to even the tone and protect from sun at the same time. A year-round staple.
I love this product because it makes my hair silky and soft, but is protecting it at the same time. My hair is pretty sensitive to sun and heat, so it is the perfect guiltless pleasure!
I love this super easy-to-use brow gel. It gives me that unkept but under control brow vibe that I'm a huge fan of! It also adds great pigment and lasts all day.

I used to avoid wearing sunscreen on a daily basis since the ones I've tried in the past made my skin greasy, left a strange tint, or were full of chemicals. Those factors are all irrelevant with this glorious COOLA sunscreen. It's all-natural, clear, and matte as can be. There's no reason for me not to wear it daily! Hurrah for protecting your skin!
I was very "anti" using bar soaps for skincare, but these are so not what you'd expect from a bar soap; there's no dry, squeaky-clean feeling after you cleanse with them. The Juju Bar lightly exfoliates, so I use it in the morning, while the Pekee Bar is super soothing and makes my skin feel hydrated and calm at night. Plus it's great for travelling because you don't have to worry about your liquids!
Quite simply this is the best lipstick I have ever owned! The formula is super lightweight but stays on forever. And it glides on like a dream! I could go on and on.
This spray gives my hair some extra volume while also taming my frizz. I use it out of the shower or on dry hair, and find that its light texture does not weigh down my fine hair strands. I'm excited to use this throughout the summer for natural beach waves!
My quest for clean beauty always leads me back to ILIA, and this translucent powder is one of my long-time favourites from the collection. It goes on smooth, does not leave any residue, does not make my skin dry, and lets my natural skin remain the focus of my face. It also smells really beautiful, and a little goes a long way.
Of course, we love lots more from Sephora—but these must-haves (along with our Blush Stone Diffuser) are great places to start.