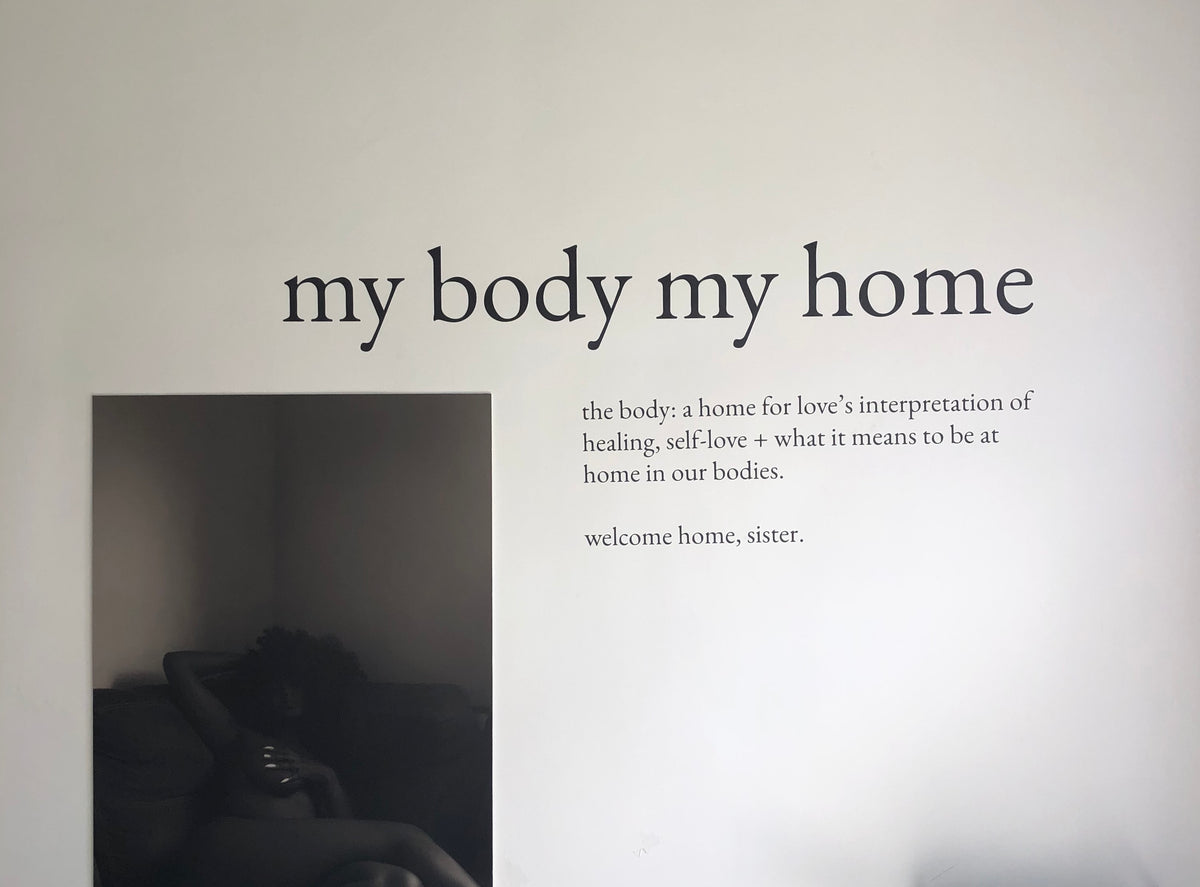 "We deserve to have—" Deun Ivory stands before an intimate group and stops mid-sentence, eyes filling with tears. Someone in the crowd yells out an encouraging, "I love you," as Ivory takes a breath. "This is so important to me because creating is like breathing for me," she continues. "I tell people all the time that I feel so lucky to be able to wake up and do this work to create and bring women on who enjoy creating as much as I do. Especially around empowerment and healing for women who have been oppressed for so long."
Ivory is the founder of the body: a home for love, a non-profit organization that offers support, education, and community for Black women who have experienced sexual trauma. Centred around the idea of healing through joy, the body uses in-person events as well as art, design, comfort, and wellness practices to shift the narrative around how Black women understand and work through their pain.
"I had a very traumatic childhood growing up," says Ivory, speaking at the body's in-person fundraising event dubbed My Body My Home. "And I try through my creativity to prevent other women from feeling the way I felt or enduring some of the self-esteem issues I used to have. So creating this is just a form of ministry for me. That is the best way for me to describe it: it is my ministry." Started in 2018 with a $20,000 VSCOvoices grant (Ivory was the first Black woman to be awarded it), the body has grown immensely since then, to now employing a team of 10 passionate and creative women. Held at Lunya in Santa Monica, the My Body My Home event featured a panel of women talking about healing rituals; a sound bath and meditation session; sips from Usual Wines; facials from Youth to the People; reading material from The Free Black Women's Library; and a custom scent by vitruvi.
The afternoon also marked a special collaboration with jewellery brand GLDN, which created a collection of necklaces, bracelets, and rings featuring art drawn by Ivory and words of positive affirmation. The event championed the idea that Black women can—and should—reclaim their bodies, and also raised money for the body's future programming (donations can still be made here). The result? A room in which you could truly feel the energy, the love, the magic.
"This is an affirmation to Black women: you are worthy of everything you desire," Ivory tells the crowd. "We are worthy of love, we are worthy of joy, we're worthy of dreaming without a ceiling, we're worthy of the support we need to actualize our visions. You so deserve it, and I'm going to do everything in my power, along with my team, to make sure we bring all of this into fruition."