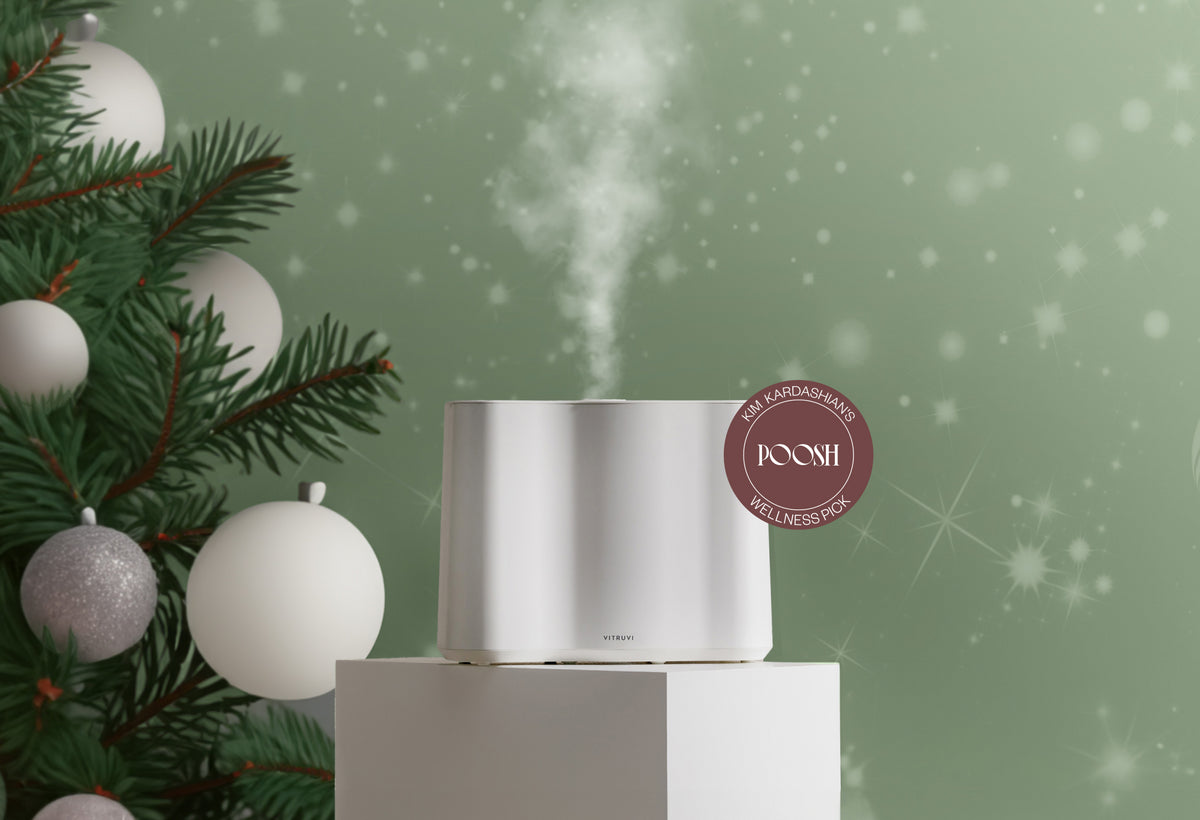 This holiday season, celebrated voices like Kim Kardashian, Katie Couric, and the discerning editors at Goop, The New York Times and more are opting to gift Vitruvi. From the sleek Cloud Humidifier to the cute Glow Diffuser, their handpicked selections merge functionality with elegance, making them the perfect gifts to fit into your gift recipient's home.
---
Kim Kardashian's Perfect Gift Pick: Cloud Humidifier
Poosh's Selection for Ultimate Year-Round Gifting
Gift the essence of wellness with the Cloud Humidifier, praised by Kim Kardashian for its year-round utility. "It's the perfect gift... super quiet and naturally hydrates the air," says Kardashian. Why we love it: For the health-conscious loved one in your life, this stylish humidifier promises deeper sleep, immune support, and relief from allergies. Give the gift of purity and serenity.
[product-card handle='cloud-humidifier']
---
Katie Couric's Sleep Sanctuary Gift: Stone Essential Oil Diffuser
Top Choice for a Restful Retreat on the Nightstand
Transform bedtime into a peaceful retreat with the Stone Essential Oil Diffuser, recommended by Katie Couric for replacing candles and securing a spot on your nightstand. "Diffuse relaxing lavender or chamomile essential oils... to help calm the nervous system," suggests Couric. Perfect for anyone looking to enhance their sleep routine with the charm of aromatherapy.
[product-card handle='stone-essential-oil-diffuser']
---
Miranda Kerr's Essential Wellness Gift: Signature Kit
The Ideal Gift for Beginning a Journey in Aromatherapy
Dive into the world of essential oils with this expert-approved essential oil blend kit. Miranda Kerr, a lifelong essential oil enthusiast, calls it "a great little starter kit." A thoughtful present for those beginning their journey towards natural wellness and self-care.
[product-card handle = 'signature-essential-oil-kit']
---
Goop's Cozy Kids' Gift: Glow Diffuser
Create a Soothing Sanctuary for Sleepyheads
Elevate any space with the multifunctional Glow Diffuser, recently adored by Goop for its dual role as a soft ambient lamp. "The ultimate relaxing vibe," Goop admires the innovative mist direction control, perfect for cozy corners. An exquisite choice for design lovers seeking to add a touch of tranquility to their ambiance.
[product-card handle='glow-essential-oil-diffuser']
---
The New York Times' Design-Lover's Dream: Stone Diffuser
Sleek, Subtle, and Sophisticated - A Style-Forward Choice
Championed by the New York Times for its chic porcelain shell and subtle indicator light, the Stone Diffuser is a sophisticated choice for any minimalist. It's celebrated for a strong stream of mist, ease of use, and a design that compliments a peaceful night's sleep in a darkened room. A stylish gift for those who appreciate form and function.
[product-card handle='stone-essential-oil-diffuser']
---
Make this holiday unforgettable with Vitruvi's refined selection of aromatherapy essentials. Indulge in the full experience.
Shop the rest of our holiday collection today.