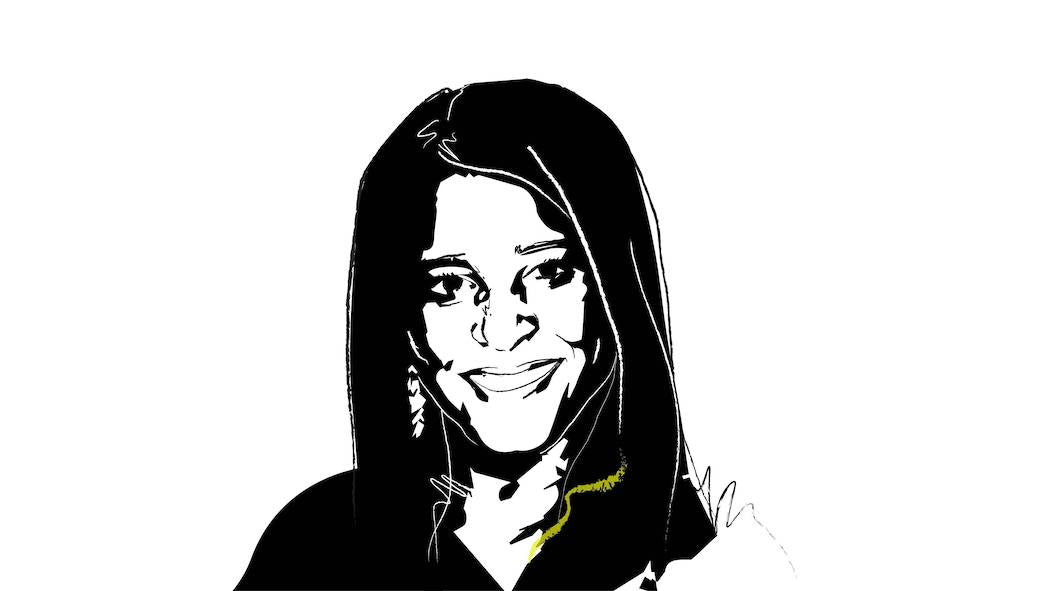 Belgica Nina-Valdez is a dynamic woman.
Born in the Dominican Republic, she moved to the United States when she was 16 and had to learn a new language, a new culture, a new way of life. She went on to get her master's degree, raise two daughters, and build a foundation of love, strength, and trust.
One of her daughters, Ashley Matos, nominated her and had this to say: "My mom came to the US when she was a teenager and really took the world by storm. As a younger mother, she managed to raise my sister and I, go to college, work, and still have time to live out her youth! I have always looked up to my mother and how she takes things on with resilience and strength."
We sent Nina-Valdez, who currently lives in Maryland, some questions to learn more about her bravery and her open-hearted tenderness.
---
You moved to the United States when you were a teenager. What was that experience like?
It was a very emotional time: a mix of feelings along with the uncertainty of a new life and a new language. I come from a big family. My sisters went to the United States a few months before me, with my mother; I was left home with my brothers, my father, and my stepmother. I had to stay behind to finish my senior year in high school. While I was still home, where I was born and had been raised, I missed my sisters so much and I wanted to be with them. We were, and still are, very close, and we did everything together.
Being the only daughter left at home was bittersweet. On one side, I enjoyed the attention I got, but on the other side, I could see my father's sadness. He knew that his daughters were flying away from his care. He later told us that it was the hardest decision of his life to let us fly away, but he had already injected in us two great values: Sacrifícate diez y siete años de tu vida para estar preparaday poder ser feliz después. Los hijos se tienen y se quieren (sacrifice yourself for 17 years of your life and live happily after. You have your kids and you love them). The process, the step by step, the patience, the consistency, and the tenacity were all part of his well thought plan.
I remember that I came to the US in the month of May. I came with two of my brothers. We were three scared young people, one playing the role of the big girl. It was cold. I can still feel it. I had the sensation of abandonment, maybe because I had just left the land my feet understood. Sitting at the airport and waiting for my mom and my stepfather to pick us up, I cried quickly.
We came to live in New Jersey. First, we lived in a building apartment, which was then replaced by a big house with a front porch, located in a beautiful neighbourhood. The front porch gave me the illusion of an afternoon sitting at the galeria of the house I had just left in the Dominican Republic. We were the second Latin family in the entire town. My mom and her husband wanted to put together all of their kids—think almost double the Brady Bunch. In this house we had 10 kids living together; a mix of active teenagers. My stepfather's boys had more energy. My mom's kids, well, we were still afraid, and our feet were not warmed to the new land yet. Besides, his boys were used to living in New York, a city 20 minutes away from where we were. They had grown extra wings and knew how to use them. From them, I learned the subway rules: look serious and tough, and know how to jump.
Was it hard to adjust to American life? What stands out the most to you now?
Adjusting to American life came with time, as I discovered the new ways. Having all my siblings with me was a big help. We continued to do everything together. Our tradition of "family first" came and stayed with us. One thing I remember that impressed me the most was the order in which people conducted themselves: people made lines and waited for their turn. I also loved the variety of culture that I saw.
I started attending a community college to learn English with my sisters, to later enroll in Montclair State University. Adjusting to the weather took longer; almost 30 years later, I still shiver at cold wind as it makes contact with my skin. I remember my first encounter with snow; it was a day I went to take an admission test at Bloomfield College. My mom had to work and forgot all about me. As I got tired and hungry, waiting for her to pick me up, I decided to call on my internal GPS and start walking home. This college was located about 20 minutes away from my new home by car. I started to walk. Picture me: a light shirt, covered by a light jacket, shoes that look like espadrilles, and a pair of jeans. I did not have gloves or a hat—not even socks.
Your daughter Ashley said you became a mother rather young, and at the same time went to post-secondary and held down a job. Can you talk a bit about those years? What was challenging and what was easy?
I got married when I was in my second semester of college. Also, I worked at a train collection company. I was following the plan, so I thought. I married at 19. The first being growing in me was forming to be this beautiful soul that I named Ashley. She grounded me at my new home with my new husband, to fully live the married life, with a few days a month at the hospital with all of the symptoms of a pregnancy. I had to postpone college, but I kept work for a bit longer. After Ashley was born, I went back to work.
The times I went to pick up Ashley at the house of a family friend who cared for her, my heart broke to see her arms reach up in search for who she was missing. Her sister Melinda came to her rescue, as she too, beautifully, started to form in me a year later; pregnant again, I had to stay home. I stayed with both girls. This was easy. I enjoyed very much every step and challenge of being a stay-at-home mother. Our family enjoyed time together. The four of us were united in all things. My sisters had families of their own as well—raising our children together was a must. We went to carnivals and events; introducing the girls to a diversity of culture was our goal. I didn't want my daughters to feel less or more than anybody. I preferred they understood the immense diversity of people around us in order to enjoy the best of all, to gain knowledge, to know.
My daughters were very successful in school; they both were in the top three in their class. Also, they pursued their careers, and both graduated from college. This gives me peace, because nobody can take your education away from you, as I told them on the day of my last graduation. I went back to school to finish my bachelor's degree, and later my master's in the middle of life as I knew it. I got a substituting job at a school to open my doors into the new world of a career in education.
How has being an immigrant and a mother shaped who you are?
Every event in my life has shaped me into who I am. From having been conceived at the beach in a culture full of joy, courage, and music; enjoying the pleasure of having a big family with many siblings; the divorce of my parents at an early age; the decisions of a father to unite his kids; the courage and the strength of a grandmother; the dedication of a young wife with kids that were not her own; the determination and tenacity of a mother; learning the ways in a new world; building a family; the lows and highs of two adults building love; laying the foundation in hopes to prepare two girls; and ultimately the desire of health, happiness, love, and peace—shapes who I am.
Self-care is different for everyone—what does it mean to you?
On tough days, when I feel something has failed, I look at nature. I want peace. I rejoice in the birth of a new day. It fascinates me to see how the sun wakes up in front of my eyes. The colour it gives reminds me that no matter what, it is a new day—a new day to do it all over again.
There is always an opportunity to start anew. A friend once told me, as I was going through a very tough time in my life, to focus on keeping my head above the water. She said that even if I had to go down for a bit because I could not hold myself up any longer, to go deep and to use the bottom to propel myself up again. I feel that everything for which we are looking is within us. Self-care then means to me to feel peace within. Of course, I would lie if I didn't include that taking good care of me means that I try to eat healthy foods with periods of fun food; look fit and clean; and buy shoes.
What is your favourite or most memorable piece of advice?
My most favourite piece of advice is that we have the option to live our lives plentifully, always remembering that life comes with rules. Understanding and following these rules determines our success, and in their absence, our fall. Life seems like a game, and if well played, in the midst of adversity, the wind will shake us but not destroy us. Especially if we have positive beliefs and well established values.
We must accept who we are, from where we come, and to where we want to go in order to understand and follow the process. Nothing that has happened to us and will happen is new. Someone has experienced this at one point or the other; therefore, I love advice and old sayings. When a wise, old person dies, an entire life encyclopedia is lost. I like to listen to older people, even when their advice to me feels like a fake arm—I try to imagine how it would feel if it was real. Thoughts are like clouds in the sky, they go. Your mind is meant to think, but we must not be infantile and believe that everything we think is real. And love must guide all.
---
This interview has been edited and condensed.
---
Read about the other 2020 Dynamic Women Award winners here.
Read about the 2019 Dynamic Women Award winners here.