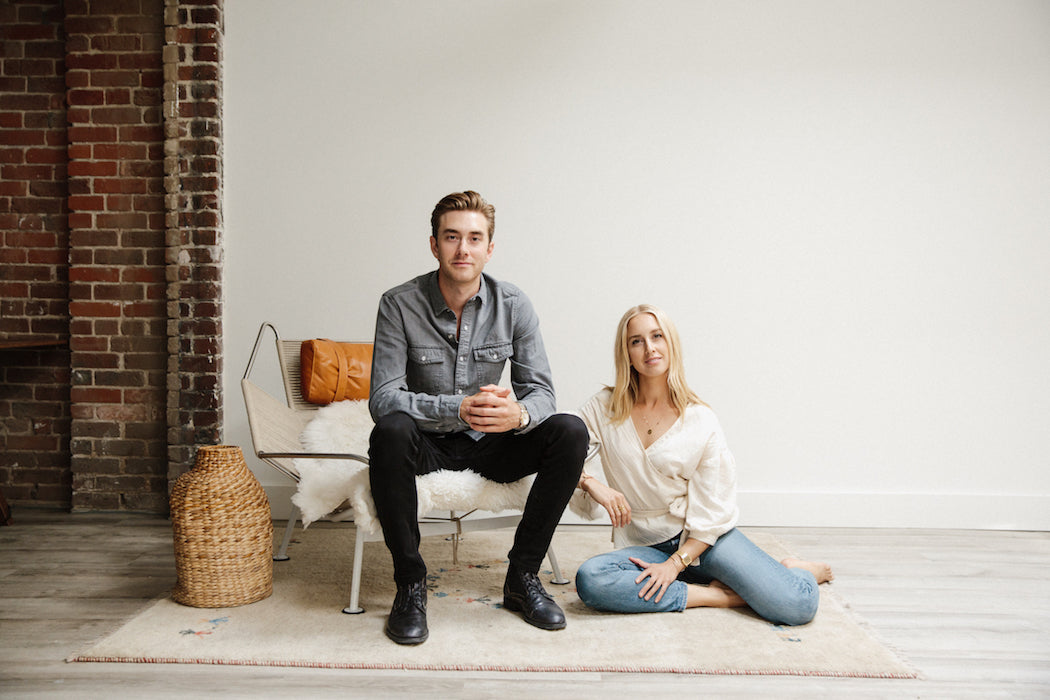 For me, 2018 was a year that demanded immense growth in the best and most real ways—from moving offices, to doubling our team size (twice) and reworking our supply chain, to launching new collaborations and products while keeping our heads above water (and our office plants alive).
Reflection isn't something I do too often. As a founder, my job is to think forward—to have a clear vision, a roadmap, and a compass for the team to navigate with. But 2018 requires a little more looking back. It was a year of profound development, both personally and professionally. A year of real conversations, fresh starts, and building a team while maintaining our core feeling of family—all while conceptualizing, designing, manufacturing, and pushing the wellness industry into new channels. The year went by so fast, I had to open my calendar to truly remember what happened. As I think about what 2018 taught me and reinforced in our company, these four topics come to the forefront.
Begin with the result in mind
There is always a finite amount of time: time to be in the office, time to create in a day, time to manufacture a product, or time to tell a story. The endless pursuit of vitruvi is to deliver just even a fraction of what we want our community to feel from us—to be taken care of, to be thought about, and to be supported through products that help them take deep breaths and have a few moments to themselves. Each day, each meeting, and each conversation must revolve around the result. A result doesn't need to be a tangible event or a press-worthy milestone—it could be how someone feels when she opens up a package from us, meets a member of our team, or sprays a mist over her face and sheets before going to sleep.
As the world moves too fast, it's easy to get caught up in the "how" or even the "why" of creating something, but as a founder and CEO for the past four years, I can say that the result is the most important. It's the convergence point of every single decision we make in a long list of cascading events.
Editing each day, conversation, and event to revolve around the results we want has fundamentally changed the way vitruvi operates. Moving beyond "what" or "how" or "when" to the result helps us operate with focus and direct the love that we have for our products and customers in a very powerful way.
Measure twice, cut once
When things change quickly, it's easy to just move with the momentum. True artistry happens when you take time to get perspective and look at something twice before deciding, though. Precision and preparation were huge themes for me and for the team in 2018.
Listen actively
If there is one thing the world needs most, I believe it's to be heard and, as a citizen of the world, to actively listen. To me this means put your phone down, cover your smart watch, tuck your hair behind your ear, and take the time to listen to the person in front of you—actively. This means not forming a response before she or he is done talking. It means holding space and time for her or him. This might sound like it will slow down a day or a meeting, but it really does the opposite. Instead of people talking over each other in layering complexity, when you respect the time and space of a family member, coworker, or loved one, I believe the energy shifts. The ease with which that person is operating becomes incredibly authentic and effortlessly powerful.
Take care of yourself, take care of your capacity
I have always been inspired and motivated by potential: the potential of a day or a year or even a single meeting. This starts with taking care of yourself, and while this is the ethos of vitruvi, is it also something that I was forced to really embody at its core in 2018. It was a year that tested my personal and professional capacity. I chose to integrate small habits and rituals into my day that were as simple as drinking more water, learning how to sleep more on a Saturday, and incorporating breathwork and Pilates on one of the dozens of flights I took. I was inspired to learn ways from our team and community that could help me increase my stamina and my capacity to show up as my best, regardless of what was being thrown at me. I urge you to explore different practices and resources so that when life comes full force, you have a handful of skills and rituals to keep you upright as your best self.
It's hard to express the gratitude that I have for our customers, our community, and the team I get to work with every day. What I can promise is that 2018 fuelled us with many lessons and new perspectives, and that what we create for you in 2019 will be full of even more heart.