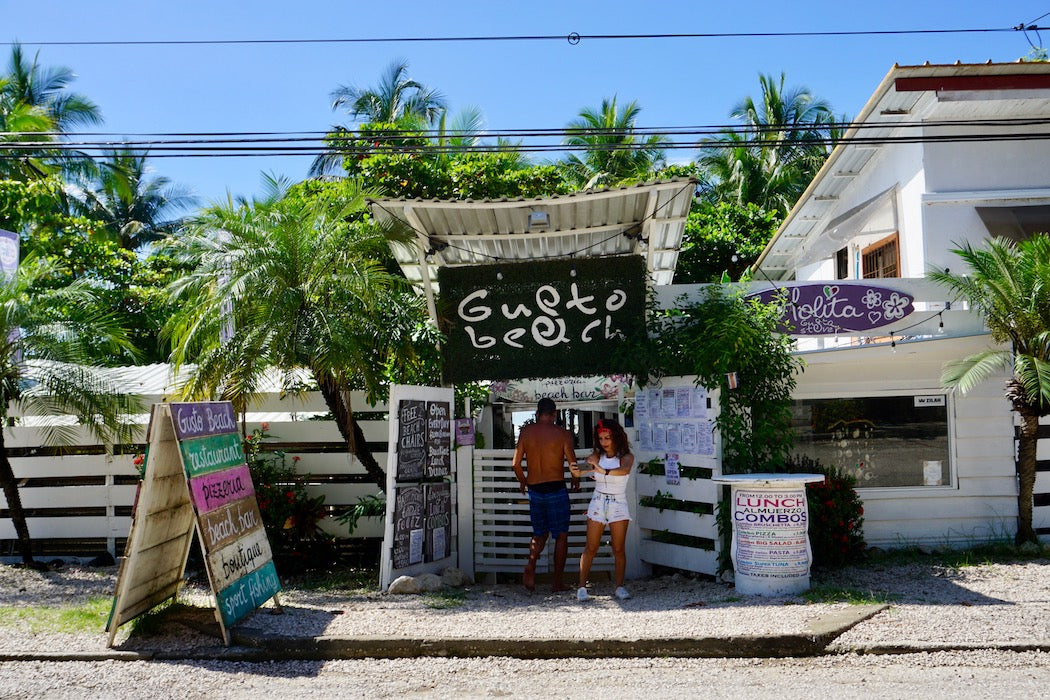 Among the wild coves of the Guanacaste's Pacific coast is the sleepy beach town of Sámara, located on Costa Rica's Nicoya Peninsula. The pueblo is known for its surf, sand, and sun—as well as its resident centenarians, who have helped the area earn its Blue Zone certification. The lifestyle here is rooted in wellness—the warm climate is ideal for outdoor activities; there is an emphasis on balanced, plant-based diets; and the locals are family-centric, spiritual, open, and positive. You don't have to be a senior citizen to reap the benefits of the lifestyle, though—here's how to mindfully travel in Sámara, no matter your age.
Movement
Stay at the black sand beachfront Nammbú resort in Playa Carrillo and enjoy the beautiful open-air yoga shala with teachers on call for private or group lessons. If you prefer a more active sweat session, pop into the local family-owned Samara Adventure Company in Playa Sámara to book a number of activities, including a snorkelling trip out to the pink sand beaches at Isla Chora; a stand-up paddleboarding session on the ocean; a kayaking excursion through the mangroves of the Ora River; a guided mountain bike ride; and a nature trail hike.
Beauty
At Samara Organics market, stock up on zero-waste and clean beauty goodies made in Costa Rica such as Cura Sana medicinal plant body lotions, face creams, and natural insect repellents.
Coconut oil is used for everything in Costa Rica. Pick up a bottle of virgin coconut oil and lather up your skin to moisturize after all that fun in the sun, or layer it into your hair for a delicious-smelling mask—your locks will love it.
Food
Tap into the fountain of youth by drinking Costa Rica's potable water, which has high levels of calcium, thus contributing to strong bones and heart health. Nicoyans also credit gallopinto (black rice and beans) for their long lives. Nammbú serves the traditional breakfast with plantain at its open-air restaurant.
And stop by Samara Organics once again for a healthy meal of fresh juices and sandwiches; the market also carries a selection of artisanal foods made in Costa Rica, including Yumm Kombucha, Amanita vegan hot sauce, Nunu kale chips, and various treats such as Costa Rican chocolates. Next door are food stalls with plenty of nutritious eats as well, such as the organic and vegan El Tigre Verde and the Israeli-inspired Falafel Cafe. For dinner, go to the fully plant-based healthy fast food joint Luv Burger, which is located right on the beach.
Paying it forward
While you're in Samara, recharge your Karma by getting involved in a community project with 
Asociación CREAR;
 the charity supports a group of local kids who act as environmental police and operate a community education centre. Tourists are welcome to join in on some of the usual activities, which include beach cleanups and painting recycled wooden placards with earth-friendly mottos to encourage everyone to leave no trace. There's no better way to say thanks to this tiny town for sharing its long-life secrets.