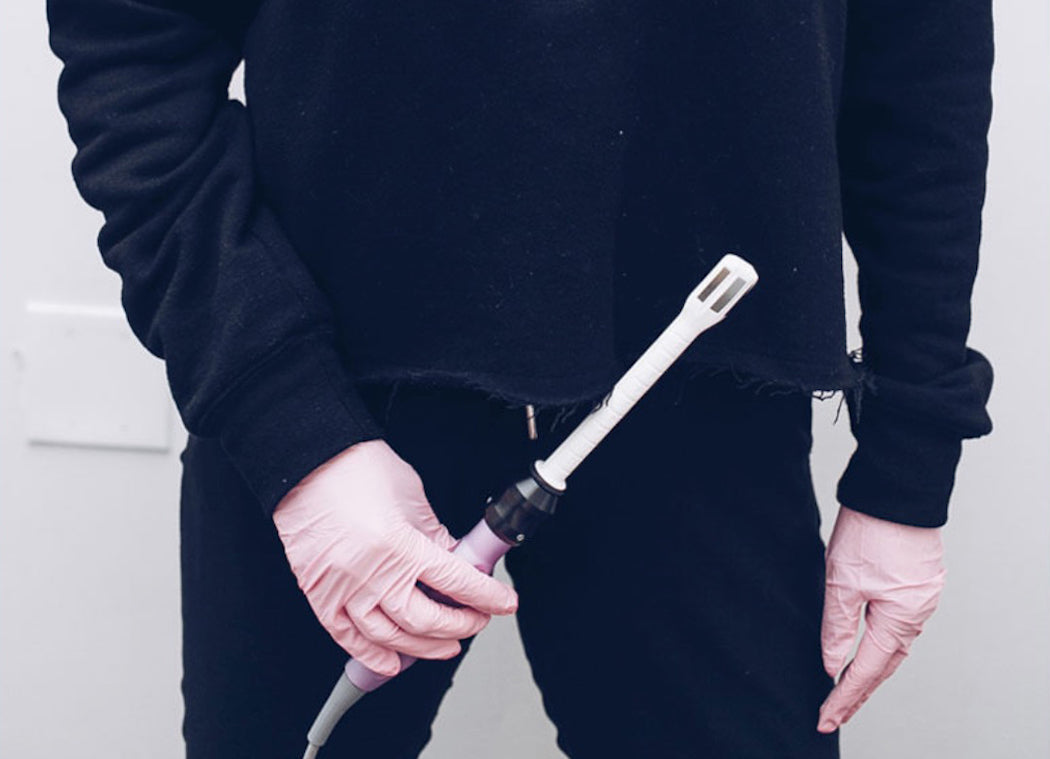 In the third episode of the Netflix documentary series The Goop Lab, 90-year-old sex educator Betty Dodson guides goop founder Gwyneth Paltrow and chief content officer Elise Loehnen through a candid conversation about vulvas and pleasure.
"I would imagine that the vast majority of women have experienced shame around pleasure," chimes Loehnen.
"Well, we have to be able to have self to be able to take control," responds Dodson.
But as women, taking control of our bodies is tough. Our pre-programmed shame coupled with internalized misogyny often keeps us from exploring our own selves and addressing conversations and treatment options surrounding orgasm, pain, self-lubrication, incontinence, and so much more. Vaginal discomfort and displeasure needn't be dismissed, though. With the help of a state-of-the-art machine, Vancouver medical spa The Skin Girls is seeing a new wave of women who are liberated to make a long-awaited change.
For the past three years, The Skin Girls has been one of the few medical spas in the region to offer Votiva: a service that provides both internal and external vaginal care without invasive surgery, prescribed to treat incontinence, sensitivity, pain, lowered sexual interest, and fine lines and wrinkles on the labia and vulva.
"A lot of women obviously don't talk about this subject. This type of treatment has only been on the market for the last five years or so, and your only other option before that was either surgery or creams. So when you try to tap into that market, it's really tough because a lot of people don't want to admit that they are wanting to [make a change] or they are embarrassed," explains Jenn Austria, a senior technician at The Skin Girls. "I prefer to meet the patients face-to-face to make a plan, get to know their age, their medical history, and if they've had children so that we can make the procedure as comfortable as possible." [Note: During the COVID-19 pandemic, consultations are being offered via FaceTime.]
There is no specific demographic for vaginal rejuvenation; Austria's clients range from young women in their twenties, to mothers in their thirties and forties, to women experiencing life post-menopause.
"After you have a vaginal birth, your body is not the same. A lot of women experience incontinence after childbirth and with age, even without having had children," shares Austria. "I have women who have come in that are post-menopausal, and they love it because at that age, you do lose the ability to [self-lubricate] during intercourse and this helps with that, too."
So, how does it work? The Votiva Forma V wand uses radio-frequency to heat the inner tissue of the vagina and stimulate the skin and collagen to tone and tighten. Think of all the kegels in the world and then some. "As you age, your muscles don't sit the same," Austria adds. "Think of it in the same ways as the body responds to a workout: your muscle response changes with age. And it's the same with the vagina." Externally, the Votiva Fractora V wand works on fine lines, wrinkles, and elasticity on the outer labia with micro-puncturing and resurfacing—an experience that can be likened to a facial.
It should be mentioned that vaginal rejuvenation treatments have only been on the market for half a decade, and gynecologists are still researching the results and long-term effects of these procedures. For those who are curious but cautious, Dr. Leslie Sadownik, director of the BC Centre for Vulvar Health, recommends seeking standard medical attention.
"There is not enough good evidence to ensure that this treatment is safe and effective, and that the benefits outweigh the risks," she explains, noting that there are other solutions for incontinence and menopausal issues, including vaginal estrogen replacement therapy and commercially-available creams and tablets. "The bulk of the published evidence is regarding the use of the laser, specifically for the treatment of [thinning, drying, and inflammation of the vaginal walls] in menopausal women," she says. "We do not know how long these changes last, as most studies report follow-up results of less than six months."
However, according to Austria, the clients coming into The Skin Girls for vaginal rejuvenation treatments are exhibiting tangible, exciting results. Most are able to take part in activities that would normally be ruled out, she says, having pleasurable intercourse with their partners and regaining confidence, cosmetically and physically.
As Dodson proclaims, "women have to learn how to run the fuck." And surely that starts with taking control of your personal pleasure and seeking the best, most viable options for your vagina—whatever they may be.