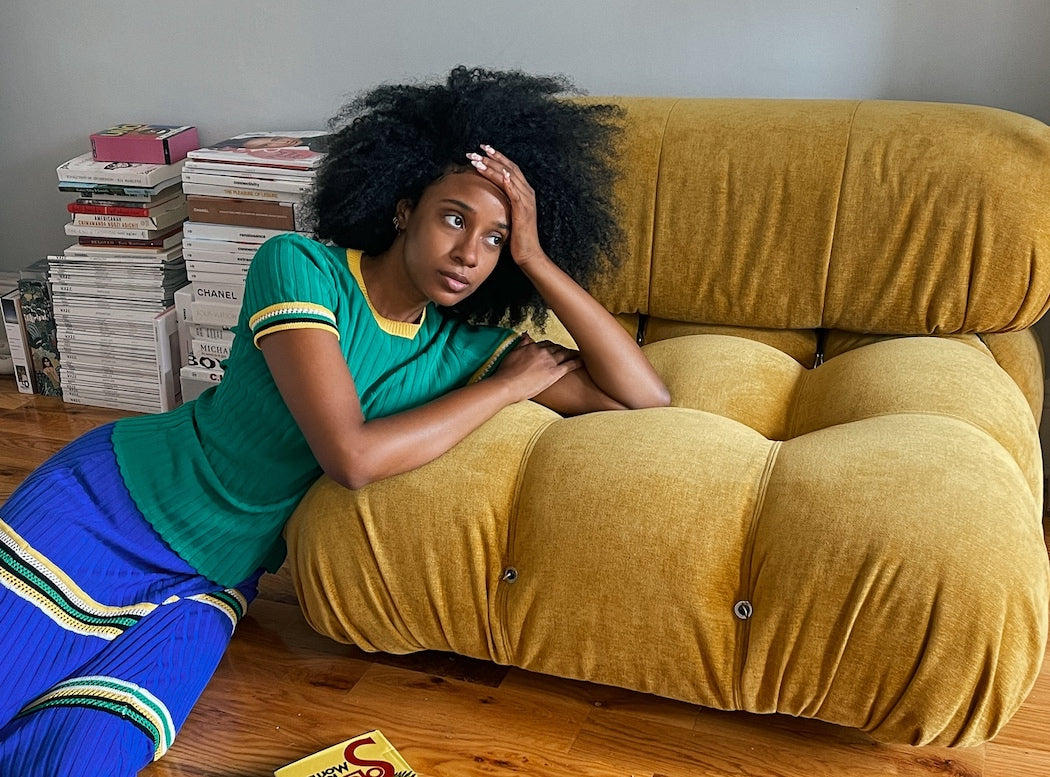 "When you actually make it a home," says Naomi Elizée, "it makes it so much more enjoyable."
It's an epiphany we all experience at some point (and for many, it was fast-tracked during the pandemic): that taking pride and care in our interiors makes them better places to hang out in. For Elizée, a January 2021 transition from living with roommates to moving in with her boyfriend helped her realize the value in prioritizing her home.
"Now I'm always on Instagram looking at all of the furniture resellers," she says via video from her contemporary, light-filled home in Bed-Stuy, Brooklyn. "Before I was with roommates, and we really didn't put any care into our living space."
Now settled in her new place, she's carving out an aesthetic that is sophisticated, thoughtful, and lived-in. "I have a lot of classic furniture pieces, and some will say trendy, but I feel like with the colors that I've chosen and the color scheme, it feels very modern and very homey," she says. She mentions a Mario Bellini sofa, and then carries her computer into the living room to show off a stunning beige corner chair whose back unravels like a fan. "It makes me feel like I'm on a throne," she says. "It is the perfect reading chair because you can just kick up your feet and be super comfortable. It's like a little cocoon."
Everything is a mix of old and new, of tastefully organized movement. That means, for example, selective objects on the mantle, but piles of books on the floor. It also means having friends come over (finally!), which for Elizée, really brings everything to life.
"Recently I've been hosting little get-togethers with friends, which has also been an amazing way to open up the space and invite people who I love and trust," she explains. "I feel that energy is so important, and to have the right people in your space, to kind of christen the space and to make it feel more homey—that's been another thing that I've been doing."
She also has two vitruvi diffusers—the Stone Diffuser in Honey and the Move Diffuser in White—that she says fit seamlessly into her curated aesthetic. One diffuser stays in the bedroom, while the other scents the main entertaining areas; at night, she loves diffusing Sleep Blend to help calm her mind after a busy day working as an editor for Vogue.
"My day-to-day is constantly changing," she says of her job. "I act as the liaison between the stylists and the brands, so if a stylist wants a particular Valentino look, I'm the one who's going to the brand to be like, 'We need this look, how can we get it here?' And on top of that, of course, I'm contributing ideas and being part of the whole process of the magazine, and making sure that our message is being portrayed."
When she's not working, she prioritizes calling her family, getting together with her girlfriends, going on walks, and practicing what she calls "radical self-care"—as in, focusing on her mental and physical wellbeing, beyond face masks and bubble baths (though those are nice, too).
"It's really taking care of yourself from the inside out, and not just outside. That's been difficult for me to navigate during this time, because you get caught up in working from home, which sometimes can translate into even more work. Sometimes you just want to turn everything off and maybe tune into your favorite TV show and order Uber Eats," she says. "So that's something I've been navigating and learning more about and trying to be actively working on. Because radical self-care is so important, especially to make sure that your mind and your body are fully connected." Having a gorgeous physical space is a wonderful thing, but so is feeling at home within ourselves.