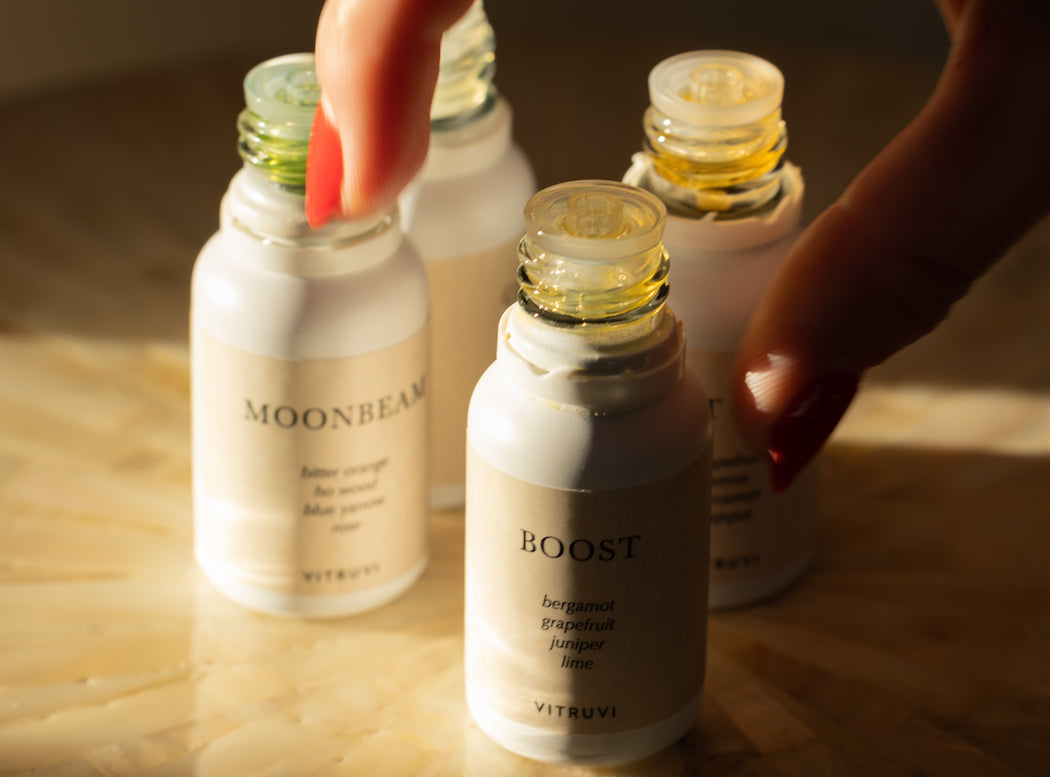 Everyone's favorite teens are back with the second season of HBO's Euphoria, and to say we're obsessed would be an understatement.
From the inventive makeup looks, to the gorgeous nail art, to the 90s-inspired 'fits, this show is a feast for the eyes. Not to mention, it deals with very important (and often taboo) topics including addiction, identity, sexuality, and grief. Euphoria is not your average teen drama—this show has a sincerity that is rarely afforded to high school students on television.
To celebrate the arrival of season two, we took the liberty of pairing the show's main characters with vitruvi essential oil blends.
Rue: Sleep Blend
Rue is dynamic, sensitive, and subdued. She battles addiction and depression, doing the best she can each day by putting one foot in front of the other (and sometimes just laying in bed). We're pairing her with soothing Sleep Blend (Lavender, Roman Chamomile, Ylang Ylang) to offer her some much-deserved rest and respite.
Cassie: Breathe Blend
Cassie is rough around the edges, but she's got a big heart. We're pairing her up with herbal Breathe (a mix of Tea Tree, Cajeput, and Eucalyptus) to encourage her to take deep breaths as she navigates the ups and downs of her life.
Maddy: Moonbeam Blend
The reigning queen of complexity deserves one of our most complex scents. Seductive and luxurious Moonbeam—with floral notes of Wild Orange, Rose, and Jasmine—is layered and rich. It's the perfect embodiment of Maddy's depth.
Kat: Dusk Blend
Watching Kat come into her power is a joy. We think her personality perfectly matches with the subdued yet sultry Dusk—a blend featuring Lavender, Eucalyptus, and Ho Wood. They're both sophisticated yet playful, and it's clear there is more to them than meets the eye.
Fez: Retreat Blend
He's cool as a cucumber, even when he's lying through his teeth to get out of precarious situations with his drug lord. We're pairing Fez with restorative Retreat Blend (Eucalyptus, Grapefruit, Palmarosa) to match his laid-back attitude—and to give his dark home a tropical lift.
Lexi: Golden Blend
Lexi is bubbly, curious, and a little innocent, so we're pairing her with happy-go-lucky Golden Blend (Eucalyptus, Lavender, Peppermint). They're both sweet and comforting—like basking in sunlight.
Jules: Boost Blend
Jules has an undeniable darkness to her, but she never lets it overtake her light. From her makeup looks to her hair streaks, she is always pushing the boundaries of her appearance as a means of self-expression. This fits perfectly with juicy Boost Blend: a citrusy mix of Juniper, Lime, and Bergamot. Boost is cheerful, just like the magic that Jules brings into a room.
McKay: Grove Blend
Masculine, but with a sensitive side: that's McKay. That's also Grove Blend, which thanks to Pine and Spruce smells like walking through a dewy forest.
Ethan: Pacific Blend
Cute, confident, and lovable Ethan is our match for airy and light Pacific: a blend featuring Amyris and Basil. His openness and vulnerability pairs perfectly with Pacific's ocean-inspired scent.
Remember this feeling.