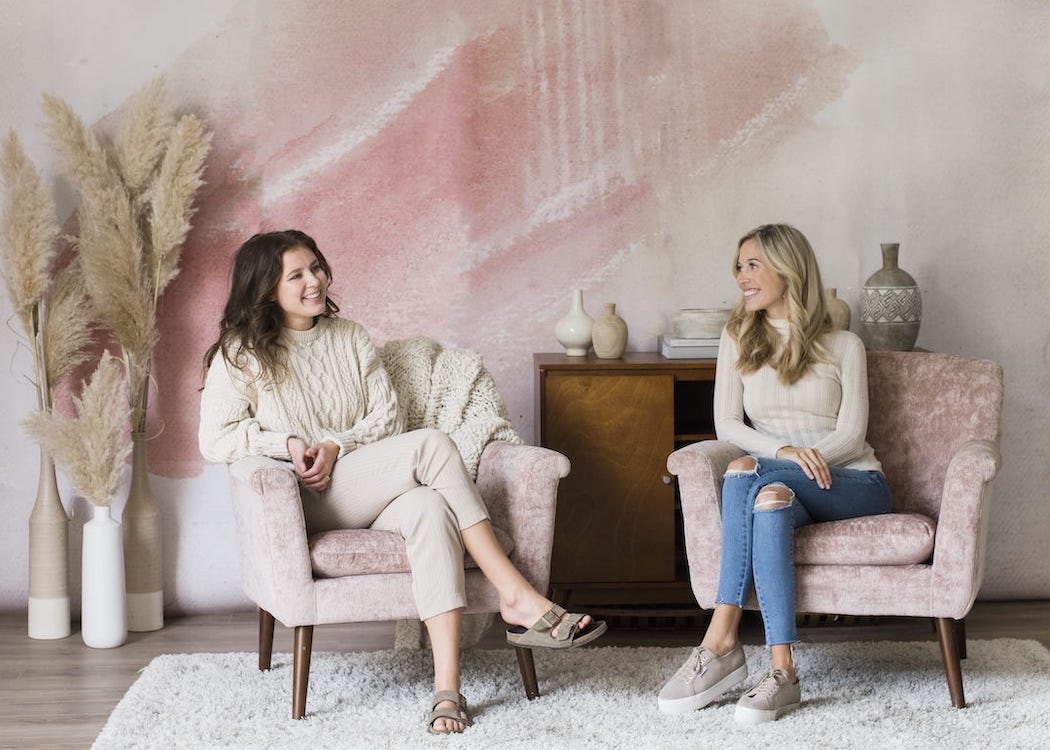 When sisters-in-law Richele Penner and Sydney Penner started their company, the product they were creating—wallpaper—wasn't exactly cool. This was back in 2013, and the mere mention of wallpaper was likely to conjure up images of stuffy, grandmotherly bedrooms in fading colours and old-fashioned patterns.
But that's exactly what Anewall set out to change.
"In the first five years, most of our orders were through the States, so we were taking shipments across the border," Richelle recalls. "And I just remember the border guards being like, 'Wallpaper? Who buys wallpaper?'"
It started on something of a whim. Richele's parents were looking for wallpaper to put in their new powder room and had no luck finding something tasteful—so Richele's brother (Sydney's then-boyfriend, now husband) suggested the two women put their heads together and create their own. Which they did, quite literally. They sourced designs and purchased a printer and started making wallpaper, right there in Richele's parents' garage in Langley, B.C.
With beautiful designs (from pastel florals, to cute cacti, to abstract watercolours), some perseverance, and a bit of luck, they've proven that wallpaper is very much back in style. And while they now have a production facility, all of their pieces are still made in their hometown of Langley, giving them ownership over every part of the process. On video chat, Richele and Sydney discuss the ups and downs of starting a business in an industry they knew nothing about.
---
Once you decided to run with this idea, how did you go about learning how to run the business?
Richele: It was challenging.
Sydney: We're pretty much self-taught in everything that we've done. Richele comes from an artsy, creative family who has the eye for design, and I went to school for science, so I'm more of a science and math kind of person. And then my husband Cole, her brother, went to business school. So he had that whole business-plan sort of mind and helped with that, and we worked on social media and came up with designs that we liked or that our family liked. And then over time, we learned what our strengths and weaknesses were. So I ended up doing more of the customer service, financial side of the business, and Richele over the years has done design work and overseen all of the actual production of the wallpaper. But it took us a while: a few years, probably.
Richele: I would say the first two years were the trial and error of everything. Not having worked with any of this machinery—you have a guy who comes in, trains you for a day or two on the machines, and then you get your wallpaper material and everything and you're like, "Okay, let's go to town." And you have not a clue what you're doing.
Sydney: As time went on, we learned. You become an expert in your field.
How do you go about creating your designs?
Richele: When we started, we were purchasing art that anybody could purchase. And then we realized other wallpaper companies could take those designs and were all selling the same designs.
Sydney: All these other wallpaper companies had our cactus. And we were like, "Shoot! We can't do this."
Richele: We shot ourselves in the foot there! So now we have freelance artists and source different designers, with different aesthetics, for different collections we come out with. We work with them to create the design that we have a vision for. And then it's just exclusively made for Anewall.
In your opinion, how does wallpaper change a room?
Richele: I feel like it just completes a room … It's a statement. It's like putting a mirror on your wall.
Sydney: And we have something for everyone. If you want something subtle that adds to what you already have, you can do that. Or you can totally go more out there.
What is the biggest lesson you'd say you've learned so far?
Richele: I think letting go of the pride. I know that's a serious thing to say, but the pride of: "I can do this, this, and this all equally as well." Thinking I could do it all. So there's a lot of failure that comes with that, and learning humility through that.
Speaking of humility, I imagine that as business owners, you have to become very comfortable with the possibility of failure. How do you open yourself up to that?
Richele: It's not easy to open up to that, but I would say the character-building in it is worth it.
Sydney: I remember the day we launched our website on Etsy, and in your head you have this expectation of what might happen. We were just waiting for a sale. And I don't think we had one sale for two or three months … For us, it wasn't an overnight thing.
Richele: When we did get our first order, it was just a small canvas piece.
Sydney: It was $25 or something.
Richele: Sydney and I were running around. It was just a big celebration.
Sydney: It's funny looking back.
---
This interview has been edited and condensed.