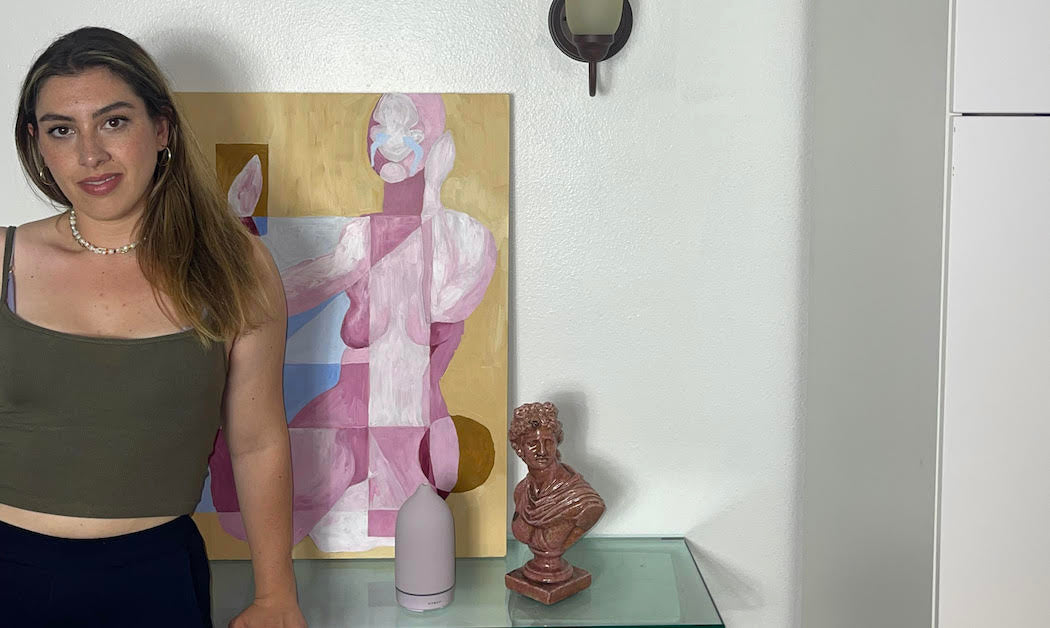 Omayma Ramzy grew up between Morocco and Egypt, and the scents of those places have played a huge part in her identity—and in her work.
The celebrity makeup artist, who counts Sydney Sweeney, Whitney Port, Huda Kattan, and Logic among her fans and clients, created Omayma Skin to be luxurious and performance-driven. And while results are integral, so is aroma—Ramzy incorporated lush floral scent notes that remind her of her upbringing, adding a deep personal touch to her products. Here's how she scents her Los Angeles home.
---
Scent is so personal. What does it mean to you?
Scent dictates so much for me. It helps me navigate my emotions, as well as set my tone and my day. It's a popular ritual of mine to have good scents around me, whether it's perfume, skincare, or essential oil diffusion. I know scent plays a huge role in my mood and how I'm feeling at a given time.
Describe your personality in three to five words.
Fun, caring, strong-headed, stubborn.
With those words in mind, tell us about the vitruvi scent that you feel represents your scent style.
I love vitruvi's Pacific and Golden blends so much. They're the perfect way to both start and end my day. I find the Pacific scent so refreshing, but also clean and peaceful. Diffusing it has been a great way to calm myself after a long day. I also love diffusing it around my home when I want to refresh my space and energy.
In general, scent is such a powerful part of who I am. I think it's incredible how a smell can take you back to an exact place or moment in time. I love notes of jasmine, rose, and neroli because they take me straight back to Morocco and Egypt, where I spent much of my youth—so I incorporated those scents into my skincare brand.
Why did you choose this scent? 
I chose these scents because it's always important for me to set myself up in a positive way before a long day on set. The scents are light and refreshing—especially great in the summertime—and give me a bit of mental clarity.
[product-card pid="7102744985780" vid="41381104025780"]
What room do you diffuse this scent in and when do you diffuse it?
I love to diffuse Pacific in my bathroom and Golden in my living room. Sometimes I like to diffuse the Grapefruit in my dining and living rooms, too. I feel like using these oils is such a great way to reset the mood in my house before guests come over, and isn't as heavy as spraying a home perfume.
The first thing people say about Omayma Skin when I put it on them is, "Wow, this smells so good." Similarly, the aroma from essential oils can really set the mood, clear away negative energy, and promote relaxation. I love diffusing essential oils while doing makeup so that my clients feel like they're in their best space.
Aside from scent, what else makes you feel truly at home in your space? 
I love beautiful things, unusual furniture pieces, and eclectic vintage finds. I also love interesting paintings and art that I've collected from thrift stores and flea markets over the years. I've got paintings and prints that have traveled around the world with me from London and Morocco! I love for my home to tell my story and who I am.
What's your favorite thing about your home?
Probably the art wall in my hallway. It's a collection of paintings of my own, paintings I thrifted, some really cool prints I love, and some photos of family, as well as art hand-me-downs from my grandmother and other artists I've worked with. I feel like it is so much more than a cool wall of art—it's an expression of my friendships and relationships.
My home is also where I run Omayma Skin. My brand is so personal to who I am and where I've been, so my home emanates my brand in the walls and objects I've collected, too.
How do you find balance at home?
For me, it's all about separation of spaces and activities. I really find it so therapeutic to cook, to paint, and to keep my space organized. I love resetting my space. I work on my brand at home, and it's where I work out on my Peloton, where I relax. There are so many different "modes" in my life, and I'm happy that my home has so many parts of me, too.
The perfect way for me to relax is by doing skincare. Very often I'll have bestie nights when my best friends and I do skincare, make our favorite foods and drinks, and just catch up. Skincare is such a great way for me to relax, take a moment for myself, and reset. I love sharing that with other people.