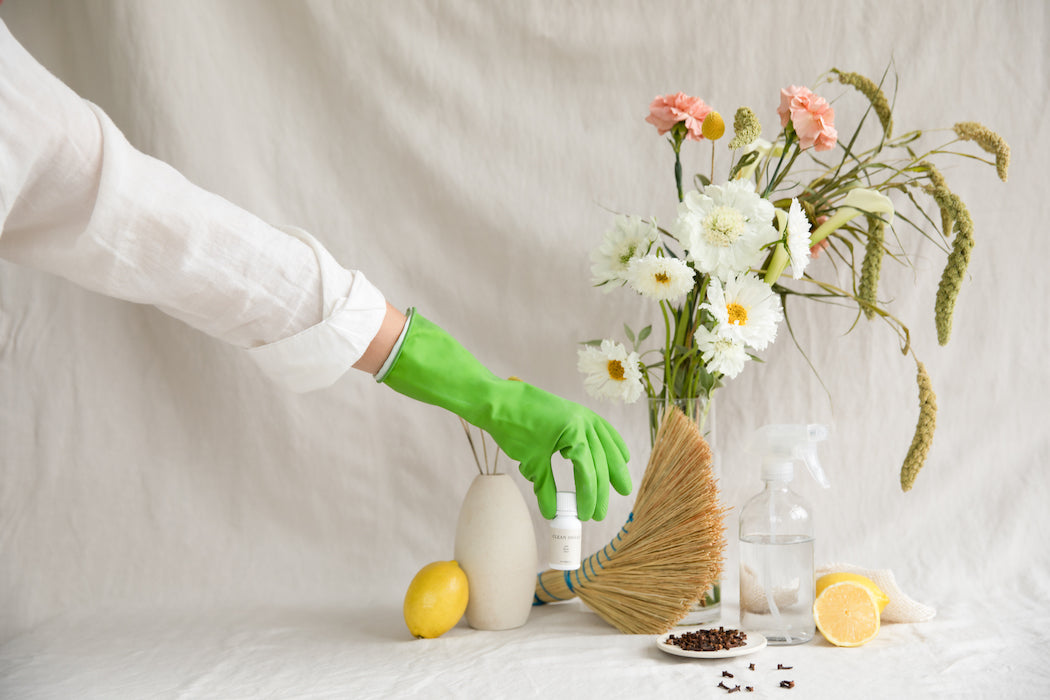 A clean kitchen is a happy kitchen. For the design-minded, here are some of our favourite accessories. Because clean doesn't have to mean boring.
Clean Sweep Essential Oil Blend
Made with Clove, Lemon, and Pine, vitruvi's Clean Sweep Essential Oil Blend smells like its name suggests: refreshing and cleansing. Diffuse 25 drops while you're doing dishes for a vibrant, complex, deodorizing aroma—or diffuse it when you want the kitchen to smell clean without having to lift a finger. Bonus? The bottle is so beautiful you'll want to keep it on your counter.
Instead of pushing them onto the floor, sweep up crumbs from your counter and table with this sophisticated brush and dustpan. The brush has a beechwood handle and horsehair bristles, while the pan is made of steel—making it all easy to use and pretty to look at.
Grabbing a paper towel to clean up a spill will be a lot more enjoyable with this holder from Umbra. Youthful yet chic, it can be displayed instead of tucked away under the sink.
Reusable sponges are a great way to reduce your waste in the kitchen. These all-natural sponges come in classic yellow and have a certain patina that makes them an upgrade to the drugstore version. They're highly absorbent and can even be put through the dishwasher to keep them fresh.
This genius trash can has motion-sensor technology built in for the easiest disposal experience. Choose from a few subtle shades (we're digging the Rose Gold) and watch how it seamlessly enhances your kitchen's whole vibe.
It's the simple things that often make the difference; sweeping up crumbs with a beautiful brush or breathing in a lovely scent can elevate even basic moments. Take pleasure in the everyday.