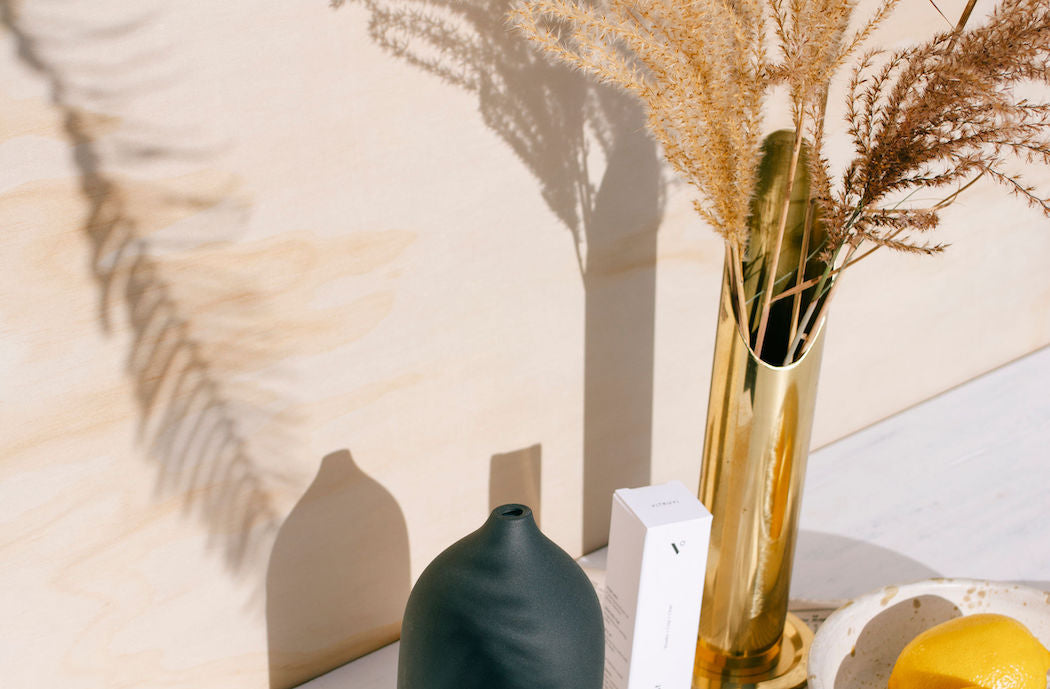 We have something super exciting to share: we have launched with West Elm! Spot our Stone Diffusers in White and Black, along with some of our favourite essential oils, on the shop's website. It's a pretty great fit, if we do say so ourselves.
In honour of this exciting partnership, we rounded up five other products that we're currently coveting from this iconic home shop.
The soft, 100% organic Turkish cotton used for this plush bath mat is sure to make your washroom feel like a spa. We're loving the Pink Blush colour—it adds personality while still remaining subtle and chic. Just imagine curling your toes into this mat after a refreshing morning shower.
Hello, mirror of our dreams. Framed in metal with an antique brass finish, this mirror can either stand on the floor and lean against the wall, or be mounted right onto the wall. The curved top gives it a definite sophistication, while the calm gold of the frame offers a timeless quality.
There's no question that cocktails made from this bar cart will just taste better. Button hardware pieces accent the industrial-style, bronze-finished frame, and four wheels mean the whole thing can be pushed into any room (festivities move, you know?). With two shelves and plenty of space, it can hold all your favourite spirits and your favourite glassware to boot.
Speaking of glassware, how cute are these stackable tumblers? Coming in a pack of six, they have a sultry smoke tint and ridges for easy stacking. Whether you store them on the aforementioned bar cart or in a cabinet, they are sure to elevate the sipping experience whenever used.
Belgian flax is utilized to make these sleek curtains, which are pre-washed for a nuanced aesthetic that we love. They'll help block out the light when desired, and look beautiful when pulled back to let the sun shine in. We're especially eyeing the Natural shade for its versatility and universality.
West Elm has so much to offer, so be sure to browse the website at your leisure for more great finds (including, cough, our products). We are all about elevating the everyday, and that always starts at home.