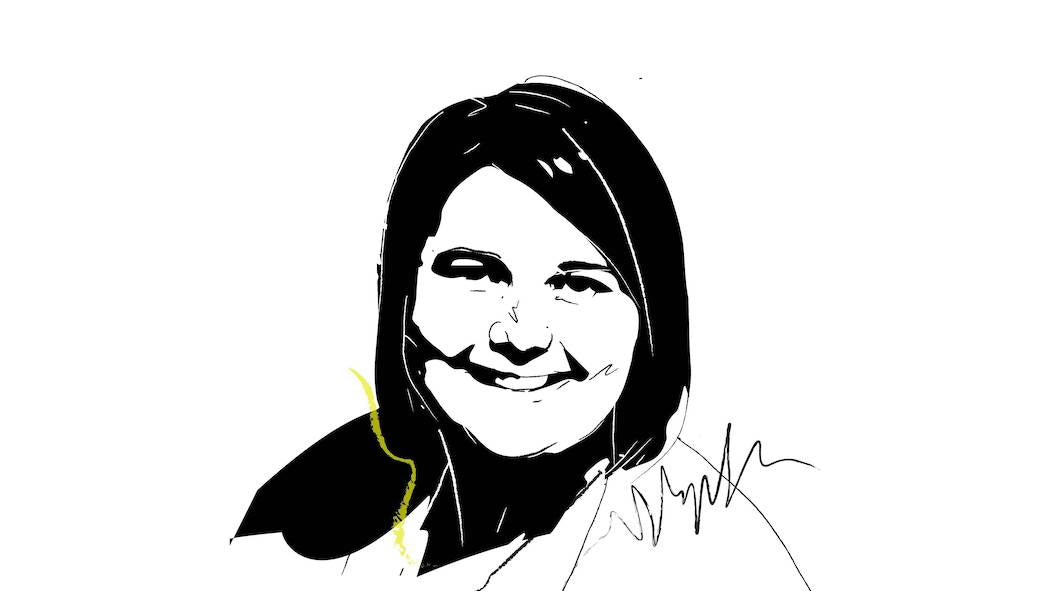 Mila Pugach is a Dynamic Woman.
In her professional life, she is a flight nurse with a hospital neonatal intensive care unit in her home of Sioux Falls, South Dakota. In her personal life, she is a mother to four children, a wife, a friend, a sister. She is all of these things, and she leads every aspect with compassion and heart.
Her sister Oksana Silchuk said this in her nomination: "Mila is not only a mother to four—she is a flight nurse in the NICU department at a local hospital. Recently Mila was part of a crew that brought home and saved the life of a 23-week newborn baby who had [little] chance to survive. She deals with the most fragile of souls and bodies—and does it well! This is one of many miracle stories that she has been a part of. My sister is one of those people that anything she touches comes to life. She helped me recover through some really hard days. She lives to serve others and does it with joy and jumps at any opportunity she sees; gives everything and expects nothing in return. I hope she wins this award because she deserves the world."
We sent Pugach some questions to learn more about her important work as a care provider, both in her local hospital and at home.
---
You are a mother of four! What has motherhood taught you so far?
One thing I've learned about being a mother is that you don't have to be a perfect mother to be an amazing one. Most of the time, providing basic needs along with love and attention is all you need to make kids thrive and bloom with their personalities. Some nights I go to bed feeling unaccomplished, but that's when I remind myself there is a fresh start the next day. I wake up with hopes of having one of those sweet days when your kids are happy and bubbly and we keep on going. Motherhood is such a rewarding responsibility that I am thankful to be a part of.
What are some of the lessons that you try to impart on your children?
Be kind. Be an example. Love everyone as yourself.
You're also a NICU flight nurse at your local hospital, which must be very challenging and rewarding work. Can you talk a bit about what you do and what it's like?
Being passionate about my work is an understatement, as I absolutely treasure the time I get to take care of the most fragile patients. As part of my job, I attend high-risk deliveries and am part of the resuscitation team. Some of these babies have to be intubated and be put on ventilators because they are too little to breathe on their own. Often, I find myself in challenging situations where my team and I are resuscitating a baby that is less than a pound and has a very small chance of survival. I am part of a flight team that transports some of these patients via helicopter or plane from smaller hospitals that are unable to take care of them. Watching these patients grow, get discharged from the hospital, and go home with happy parents overfills my heart with joy.
Surely every baby you care for is special in his or her own way, but are there one or two memories that stick with you as pivotal moments in your career?
In my 12 years of being a NICU nurse, some situations were definitely more memorable than others. One of these experiences was recently with a 22-week gestation infant that was born in a rural hospital, and our flight team was requested to be present for the delivery. At this point, it is up to the parents to decide if they would like us to intervene and to try to save the baby, as there is an insignificant chance of survival. To tell you the truth, flying and anticipating being in this situation, I have to take a moment to myself to concentrate, pray, and be ready to do my absolute best to give this fighting life the best chance by providing complex care.
Sometimes I take a step back when I realize I was part of saving the smallest life in our state—weighing in only at 11 ounces—and I am amazed and humbled at what I am entrusted to do.
Your nominator—your sister Oksana—describes you as incredibly selfless. Why is helping others (through your work or otherwise) so important to you and how does it make you feel?
Wow! What a huge compliment. I don't think that way of myself all the time. People must be catching me at just the right moment. I definitely do find pleasure and reward in serving others.
Self-care is different for everyone—what does it mean to you?
Being a busy mom and having a challenging job, I like to take time to care for myself. One of the most amazing things is having my husband by my side, supporting me in every aspect of life. He is a strong person that I can lean on and cry to during difficult times. Although, there are times (and my husband knows when that is) when I need to unplug for the day and spend time with my girlfriends and other moms over coffee.
What is your favourite or most memorable piece of advice?
My favourite piece of advice is to keep balance in everything you do. I have realized that I need to have balance between family, our home, church, and friends. After working a lot, I schedule a family day so that my loved ones and I can spend it together. Personally, self-care is also an important aspect for keeping a balance.
---
This interview has been edited and condensed.
---
Read about the other 2020 Dynamic Women Award winners here.
Read about the 2019 Dynamic Women Award winners here.