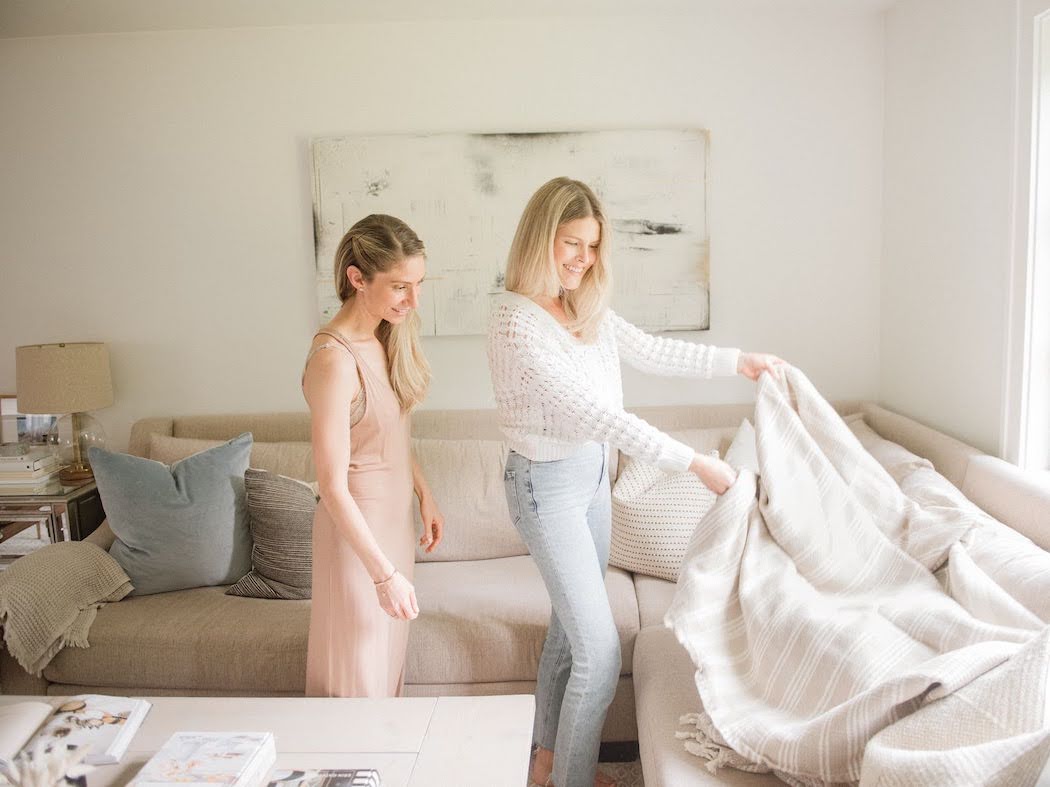 I have always found comfort in the quiet of my home. I want to create a space where people feel comfortable putting their feet up on my coffee table. I want my friends to lose track of time, to linger for a second glass of wine or cup of coffee. I want my guests to feel exactly that: like guests. I don't believe in asking people to contribute a dish when they come to my dinner party, and I certainly don't want them spending time cleaning up. The comfort that I crave for my guests is something I have always longed for myself. I want to create experiences that feel romantic, simple, and fulfilling.
My love for entertaining began when my husband and I moved into our first home: a little heritage townhouse in Vancouver's South Granville district. I loved keeping the door open, hearing the sound of the local opera singer belting out his latest and greatest on the street. The city felt alive—and while incredibly tiny, our living room became the gathering place for our friends and family. When we renovated our next home, the same through-line of cozy and comfort were kept top of mind. Nothing could be too precious.
I started experimenting with home decor through vintage hand-me-down leather chairs from my husband's nonna and trips to local markets and design stores. Saturday mornings were often spent with kitchen shears in the garden, picking tomatoes and figs and lettuce and hydrangeas to bring inside and create with. I started to cultivate the home I had always dreamed of—a home that reflected a layered life. A home worthy of starting my family in.
My love for textiles and fabrics grew with time. A herringbone blanket we chose for our wedding registry became a symbol of everything I had yearned for. It was comfortable, it wasn't too precious, and it kept our guests in our living room for hours. When the long days of summer finally turned to dusk, a stack of blankets would be carried to our outdoor couch. I remember drinking a bottle of wine by the fire pit with my best friends, ours knees touching underneath the throws that I brought out to keep us warm. Stories being told, bonds being formed. The grown-up version of summer camp.
Textiles have always been a large part of my everyday life. From trying to find the perfect waffle robe to pop in my hospital bag for when I went into labor (it couldn't be too hot and heavy, but at the same time needed to have enough durability to withstand the potentially multiple per-day wash cycles I intended to put it through), to having multiple throws on our couch, on our outdoor furniture, and at the foot of our bed. I've always been drawn to the ability of textiles to elevate any space or piece of furniture with ease. Over the years, I've cultivated my approach to creating the coziest rooms with textiles—places where it's okay to linger for another hour or two. It's why I created One Wednesday: to share my passion for textiles through curated, well crafted, beautiful items that I love, and that I know others will love, too.
Here are my tips for using these textiles to create a cozy home.
Your everyday rituals can and should be woven into your decor. My meditation pillow and blanket sit out near our coffee table and remind me of my commitment to my practice.

Every couch and chair should have at least one textile. I recommend a heavier blanket folded on the arm of your main couch and a lighter throw (muslin is my favorite) strewn across the middle for a casual and inviting look. I love a sheepskin (faux is great, too) for our vintage leather chairs.

A waffle knit robe is your guest's best friend. If you are lucky enough to have a space for overnight house guests, throwing a fresh waffle knit robe at the foot of their bed so that they can wear it when they read at night or when they emerge for coffee in the morning can make a marked difference in their experience.

Turkish waffle towels can be a learning curve, but once you use them a few times, you realize why they are worth the hype: absorbent, lightweight, quick drying, and soft all at the same time. Each bathroom should have its own color to reflect that space's character. White and olive are my favorites.

Never underestimate the power of refreshing your kitchen linens. These also make the best gift since, for whatever reason, we are always hesitant to treat ourselves to necessities that we use 10 times a day.

Whenever possible, rugs should be vintage. They carry the weight of every person who

 

has stepped foot on

 

them. My favorite finds are vintage rugs from Etsy in peach pastel hues. They bring a richness to a room that cannot be newly manufactured.

Homemade forts using every single blanket and throw you have on hand are always a good idea.