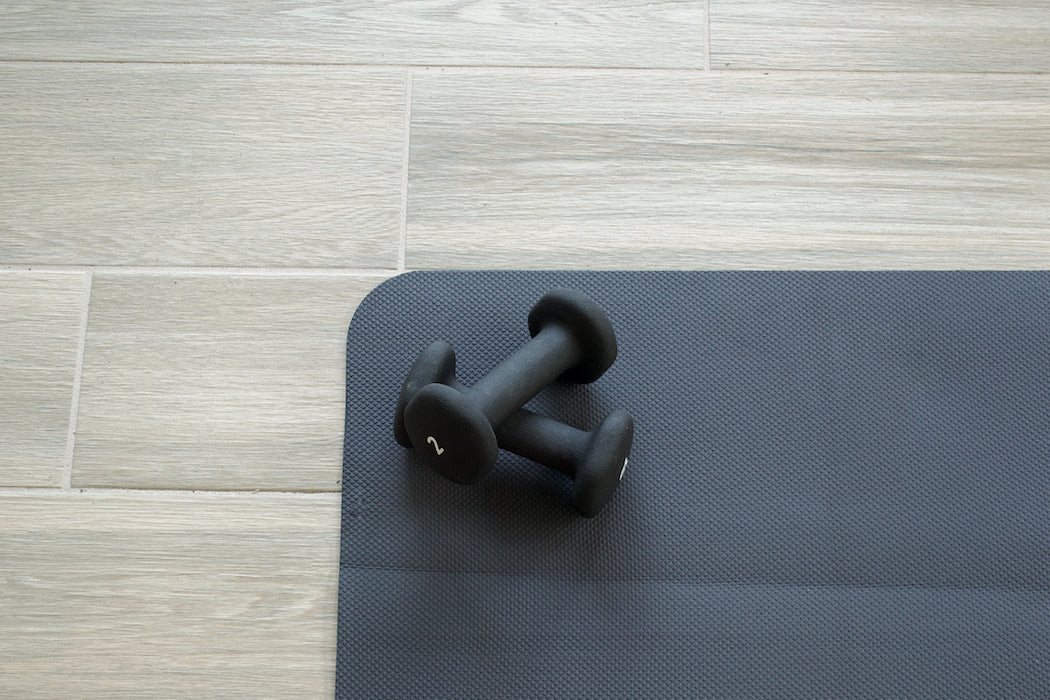 Oh, we're going to miss summer.
The sunshine gave us a break from our homes—a chance to tentatively get outside again after a strange, insular spring. The days were all long runs, bike rides, and beach swims. We were moving. It felt good.
And soon it'll be over.
As the weather cools and the days shorten, one small nagging fear is bubbling up: how can we keep active once we're back in hibernation, with a dreaded COVID-19 second wave looming?
The future of fitness studios and communal workouts is still uncertain. Our living rooms have never felt smaller or more stifling. But Melissa Nkomo, founder of the wellness collective Kunye, is looking at the return to home workouts this fall as a possible good thing. "It's an opportunity to revitalize our relationship with movement and exercise," she says. "We're letting go of what we think our exercise practice should look or feel like, and using it as a chance to try something new."
On the cusp of launching her own digital studio and live classes this fall, Nkomo shares her advice for making the most of stuck-at-home workouts—though she's adamant that we're each our own best fitness expert. "Everyone's body is so different," she says. "Even though I'm a quote-unquote 'fitness professional,' ultimately you're the one who knows your own body best."
Sample everything
"One of the beautiful things about this new kind of evolution of online studios is that most will offer some type of free trial," explains Nkomo. Whether it's for a few days or a few weeks, test out everything you can until you find the programs or instructors who really jive with you. Some of Nkomo's streamable favourites include The Class by Taryn Toomey, Goodbodyfeel, Common Ground, and Pilates With Stephanie.
Don't be a hero
You don't want to get hurt. You do want to enjoy yourself. If you haven't done much working out at home before (or, let's face it, working out at all), start off slow. "You don't have to start with CrossFit," says Nkomo. Make sure you're trying classes or exercises that are appropriate for your level—especially if you're just getting started—and build from there.
Choose coaches carefully
Of course you want an instructor who's going to push you; you just don't want someone who will push you too far. "Look for guides who bring light to safety," says Nkomo. "It's a warning sign if a teacher doesn't give you a disclaimer." If they're offering modifications and adaptations for a variety of levels and bodies, that's a good thing.
Breathe in, breathe out
"I always say the best workout is the one that teaches you more about yourself," says Nkomo. In her own practice, she's interested in moving mindfully, and values quality movement and connection over sweat and aesthetic results. Focusing on breath during any exercise can help you be present in the moment and get something powerful out of your workout beyond a cardio boost. "I call it mindful movement, and breath and meditation are the foundation," Nkomo explains. "Whether you're running or doing yoga or you're on a trampoline, can you be aware of your breath and the sensations in your body? Most approaches to exercise focus on the end goal, but being present can be a goal, too."
Decompress first
If you're focussed in your practice, you're going to get more out of it. "Make sure you're not coming to the mat with a thousand things on your mind," says Nkomo. Are your brain and body properly prepared? Are you properly fed, hydrated, and rested? Show up ready—don't just squeeze it in. And ending your practice with a moment of reflection is just as important. "It's so funny. When I teach in studios, especially at midday, people want to skip that part and leave before savasana [yoga's resting pose]," says Nkomo. "That moment of pause before you ease out of practice and back into work, or life, or whatever, is how you know how you're feeling." Do you feel like you made connections? Do you feel stronger? Take that beat to check in and transition back into your day.
Stock up on supplies
You don't need anything except a little bit of space to work out at home, but a few fitness tools can be helpful to have on hand. Ankle weights are a favourite for Nkomo because they can easily double up as hand weights; and a few old dishcloths can act as sliders on a hardwood floor for home Pilates or barre classes. "There's also so much you can do with a kettlebell," Nkomo says. Between workouts, she also recommends rolling out your feet on a massage platform or a release ball. "Your feet are so connected to your body," she says. "Even just rolling them out while sitting at your desk can be so helpful."
Listen
Tune in to your body as you go, and be honest with yourself if it's too much: there's a difference between pushing through a motivation block and forcing through physical pain. "That's kind of the beautiful thing about working out at home: it forces you to check in with yourself and not just rush to keep up with everyone around you," says Nkomo. "It's a practice of listening to yourself."