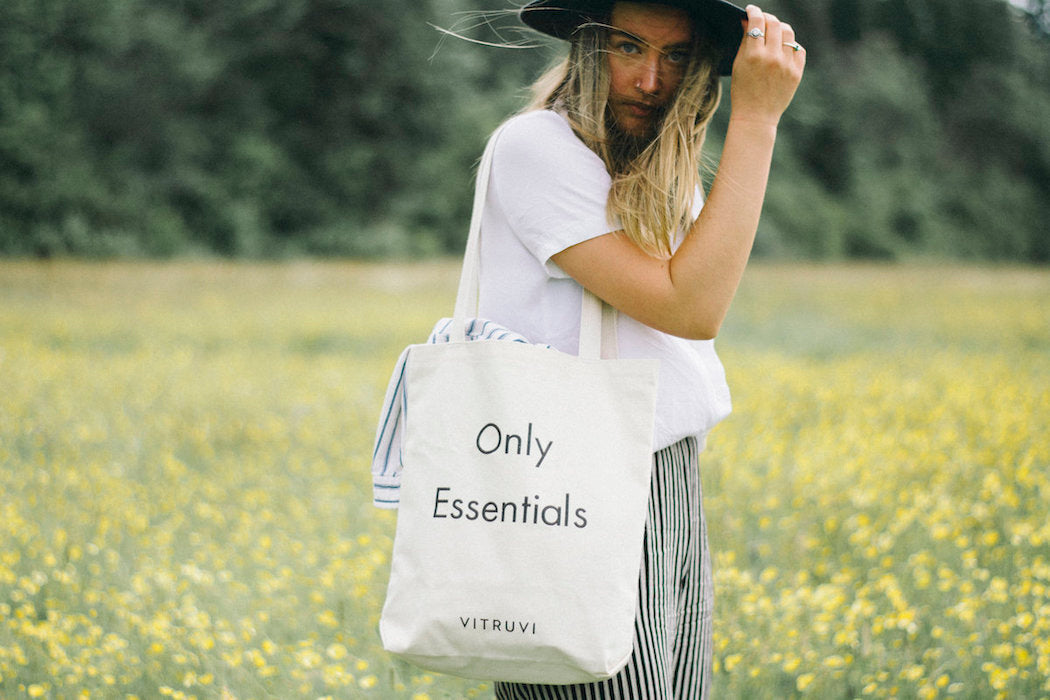 Lauren Leggatt is a talented photographer who has created content for us here at vitruvi. She manages to capture our products in beautiful ways—always finding the most soft, subtle light, whether at home on Vancouver Island or abroad.
"I feel like photography is a great way to connect with a location, person, or place," she says of practising her art when travelling. "I find it forces me to look at my surroundings in a unique way that might otherwise go unnoticed. A little nook beside a window with gorgeous light or a beautiful tile pattern below your feet—there are so many little moments to capture. I think that's such a special aspect to photography; it feels pretty sacred in a way."
Speaking of travelling, Leggatt emailed us her essentials for when it comes to leave home.
---
A notebook
"Inspiration seems to strike at the weirdest times, so having a small notebook to write ideas down is super important while travelling. I love a good Moleskine as much as the next person, but I find there's something charming about getting notebooks from thrift stores—so all of my journals are thrifted finds. Besides inspiration, having something to write directions on or doodle on a flight comes in handy while travelling."
Face cream and Lavender Essential Oil
"Being on a flight for hours on end always seems to make my face dry (I think it's the re-circulating air), so having a good face cream is a must. My personal favourite is the Sibu Nourishing Face Cream. I also like to bring Lavender oil along to freshen up and help put me into a relaxing state at the end of the day."
Podcasts
"I'm a big supporter of podcasts, so having these while on the go is super important. There's a podcast for every person and every mood, so I like to fill the gaps between activities with a little bit of audio. My all-time picks are Beautiful Anonymous, School of Greatness, Where Should We Begin?, and Oprah's SuperSoul Conversations, but I'm always adding new favourites to the collection."
Dry shampoo
"A literal life-saver might be a bit of an exaggeration, but this stuff has come in handy so many times. The No Drought dry shampoo from Lush is hands down my favourite for so many reasons—it lasts forever, isn't in an aerosol can (perfect for travelling), and it smells incredible. I could go on, but you get it."
Water
"Pretty self-explanatory—hydration is key."
Cameras (digital and film)
"These obviously had to make the list of essentials. I've been getting into film lately, so bringing my digital and analogue cameras along with a few rolls of film (read: 20) is a definite must."
Happy trails!
---
This interview has been edited and condensed.