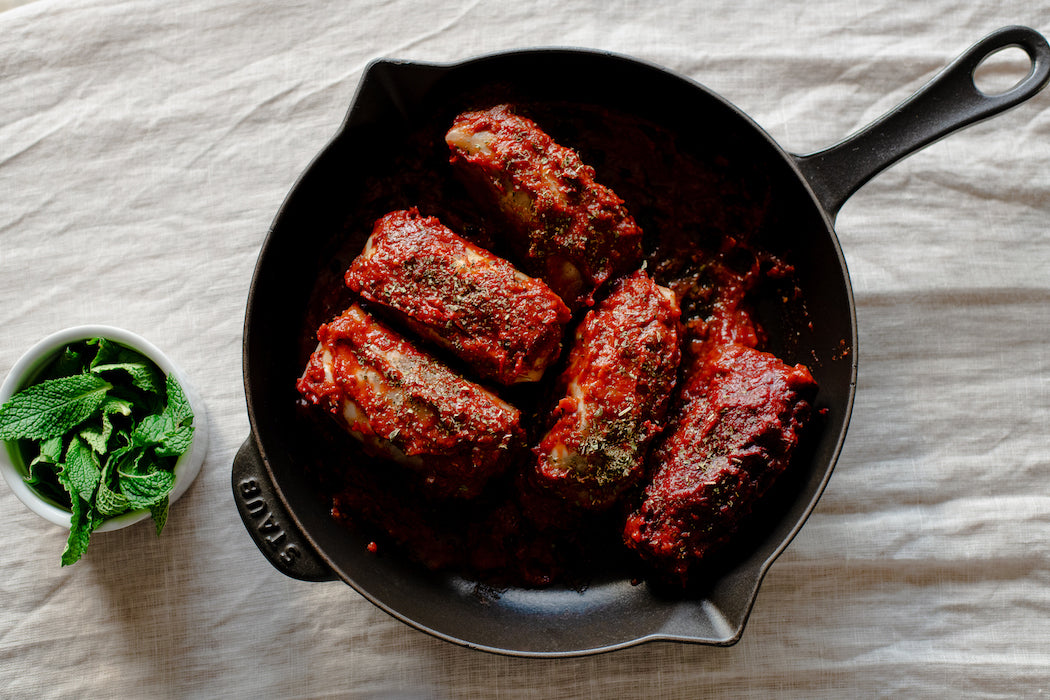 You know which dried herb is not used often enough? Mint. I got it into my head one day that I wanted to make cabbage rolls but with a minty twist. Not sure why this got stuck in my brain but I'm glad it did, because it inspired this "Mediterranean-esque" recipe. I threw in dried currants to really switch up a traditionally Polish dish. They add a lovely hint of sweetness and turn a rustic comfort food into an elegant dish you can proudly serve at a winter dinner party. Make it extra pretty by using a combination of green and red cabbage leaves!
Serves 8
Sauce ingredients
1 X 680-ml can tomato sauce (reserving ½ cup for rolls)

1 teaspoon balsamic vinegar 

2 teaspoons maple syrup

1 teaspoon dried mint


Cabbage roll ingredients
1 head green cabbage, cored 
1.5 teaspoons salt, plus more for the water
1 tablespoon olive oil
1/2 cup onion, finely chopped
1 medium zucchini, shredded
1 cup cooked rice
1.5 cups vegan ground "beef"
1.5 tablespoons full-bodied red wine
2 teaspoons dried mint
2 tablespoons dried currants 
¼ cup canned tomato sauce


Method
Lightly brush a 9-by-13 inch casserole dish with olive oil. 

Heat sauce ingredients over medium heat in a medium pot until they reach a light simmer. Cook for 3 to 5 minutes and remove from the stove.

Gently peel off the 8 to 10 leaves from the cabbage and cut out the hard stem part. Bring a large pot with 2 inches of water to a boil. Add cabbage leaves and steam for 3 to 5 minutes until wilted and easy to manipulate. Remove from heat, drain and let cool for a few minutes.

In a large frypan over medium heat, cook onion for 2 to 3 minutes. Add zucchini and cook until liquid is absorbed. Add rice, ground "beef," and wine. Let the wine absorb. Add mint and currants, then season with minimal salt and pepper. Add the ½ cup of sauce and combine well.

Preheat the oven to 350 degrees Fahrenheit.

Pour half a cup of sauce to cover the bottom of the casserole dish. 

Take a leaf and place it curved side down on a cutting board. Place a quarter cup of filling into the center, fold in the sides, and then roll up. Place seam side down into the casserole dish. Repeat until all the filling is used up.

Cover with remaining sauce and bake uncovered for 25 minutes. Cover and bake for an additional 10 minutes.

This is an earthy and spicy version of the classic with a very flavorful tomato sauce. Dried mint and currants add amazing Mediterranean vibes to this dish.


Wine pairing
My value pick is a red wine from Greece, made from the agiorgitiko, which is widely grown in the Nemea region of Peloponnese, but can now be found throughout Greece. This grape produces wines which typically have plum notes, some spice, and a lovely earthiness, which really work in harmony with the tomatoes and spices in this dish.
My splurge wine would be a very good valpolicella ripasso from Veneto, Italy. This red wine can be a blend of red grapes and, when made in the "ripasso" method, can change it from a simple to a more robust wine. The production method of a ripasso means the wine is created with partially dried grape skins that have been left over from Amazon or recioto wines. These reds work with the tomato sauce so well and stand up to all the exotic spices in this dish effortlessly with that extra degree of fruitiness imparted by the winemaking. Pro tip: when selecting your valpolicella ripasso, read the label carefully. There are many styles of valpolicella such as recioto, amarone, and simple valpolicella.
---
This recipe was excerpted from "The Social Herbivore: Perfect Pairings for Plant-Based Cuisine," available from Oct. 5, 2021.