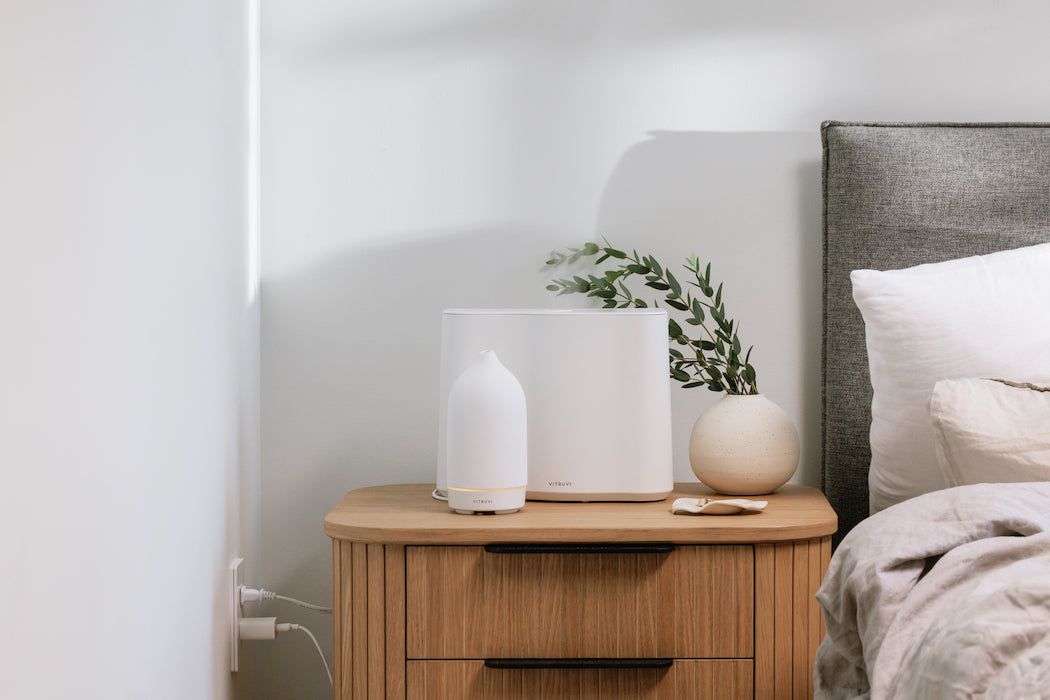 With myriad benefits for skin and hair, a humidifier may just be what your beauty routine has been missing. By releasing a cool mist into your home, it creates your air's optimal hydration level.
"A humidifier helps restore moisture to the skin, which keeps it supple, radiant, and healthy," says Los Angeles-based dermatologist Dr. Jessica Wu. "This is especially important over time, since skin loses water more quickly as time goes by. When you replenish skin's moisture, you'll see many skin benefits."
Skin benefits of using a humidifier
Dry and dehydrated areas will look softer and less patchy

The delicate under-eye area will look smoother

Cracked, chapped lips will look plumper and softer

All skin types will look more glowy because light will reflect better (dry skin looks dull)

Other body areas such as the neck, chest, and hands will also benefit from more moisture


[product-card handle="cloud-humidifier"]
A humidifier also helps your skin's ability to absorb skincare products. "Skincare absorbs better and more evenly when it's applied to hydrated skin," explains Wu. "When skin is dry and flaky, it may absorb unevenly. Plus, makeup goes on more smoothly when skin is hydrated." She suggests looking for skincare products that contain humectants (substances that attract water from the air) such as hyaluronic acid and glycerin.
What skin types benefit from a humidifier?
All skin types can benefit from a humidifier, says Wu—but in particular, normal to dry skin types, sensitive skin, mature skin, and skin with rashes such as eczema and psoriasis will reap the rewards.
She also says that humidifiers are great if you live in a dry climate, as well as during the winter months when you're spending more time in dry indoor heat. "But it's also wise to humidify even in summer," she says, "if you spend a lot of time indoors in air conditioning, which is very drying to your skin."
Hair benefits of using a humidifier
Aside from skincare benefits, a humidifier can do wonders for your hair. Some positive effects include:
Decreases frizz

Increases shine

Creates a smoother and softer texture

Helps with strength

Helps with product absorption

Improves scalp health


For an extra-luxurious treatment, apply an overnight hair mask before bed and let it work its wonders while you sleep (with your humidifier on, of course).
The most beautiful humidifier
The Cloud Humidifier from vitruvi is whisper quiet, easy to clean, baby-safe, and simple to use. It's also small enough to fit on a nightstand, and beautiful enough to keep on display. With a sleek curved silhouette, it truly marries form and function.
"Keeping your skin hydrated and healthy at a younger age will help preserve your youthful glow," concludes Wu. "It's never too early to start using a humidifier."