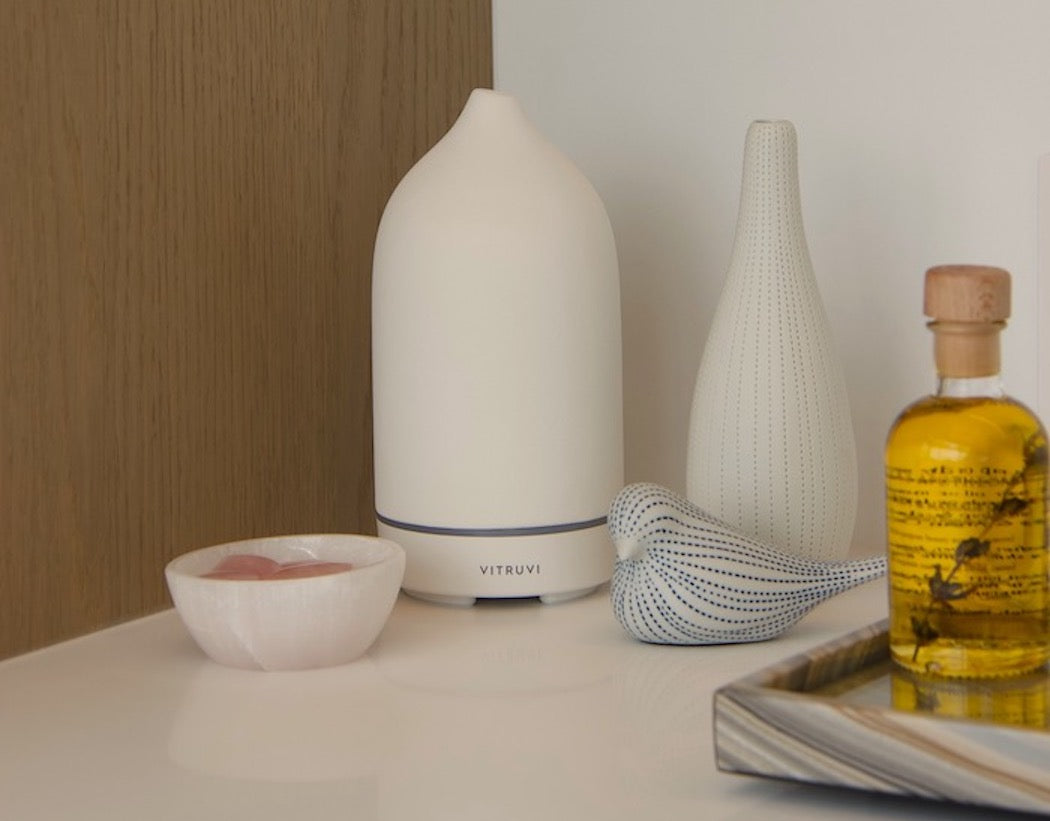 Walking down memory lane, I'm constantly thinking of beautiful scents. Whether it is my grandma's fragrant jasmine plant by the edge of her gate that we used to swing on, or the smell of her orange tree blossoming that always made me smile no matter what mood I was in, it's always been fascinating to me that I can simply close my eyes and sniff the air in a flower shop or a bakery and feel so many emotions or recall so many memories—and ultimately change my mood and focus on a positive note.
When my husband and I designed Theory + Essence, our goal was to change the perception of what it is to go to a dental office. The look of our North Vancouver space is clean and minimalistic, yet if you pay close attention, you will see understated details everywhere you turn. Patients can immediately understand that you're in for much more than a routine dental appointment. I also wanted to make sure the space gave off a bright, distinctive, and confident vibe so that when people walk in, they feel comfortable receiving care in the space. I immediately knew that to create such an atmosphere, I needed to incorporate a unique scent to create a feeling of comfort and ease. We've worked hard to create an environment that makes our patients feel comfortable, and adding a scent to help our patients overcome the common dental office jitters was a no-brainer.
We use the vitruvi Stone Diffuser in our clinic, and the benefits have been nothing short of amazing. The scents are 100 percent natural, vegan, pure, and cruelty-free, and come in UV-protected bottles to preserve their quality. The simplistic and elegant design complements our clinic beautifully; there was never any doubt in my mind that we wanted only the best for our patients.
Bergamot Essential Oil is one of my favorite citrus oils to put in the diffuser. The aroma of Bergamot is reminiscent of my grandma's orange blossoms, but it is wonderfully more complex; it almost seems to possess an underlying floral characteristic to it. We get so many compliments on the scent, and patients often say that, for a moment, they forget that they are at a dental office. Bergamot is unique among citrus oils due to its ability to create both an uplifting and calming environment.
The diffuser is beneficial to clients in the waiting room, because the apprehension from waiting can often be more traumatic than the procedure itself. However, for the optimal comfort of the clients, we have diffusers in the dental rooms, as well. I love the Move Diffuser because it's cordless and allows us to scent every corner of the office without the hassle of plugging it in. Move sits elegantly on the table in our waiting area and in each of our operatories. The pleasant fragrance throughout the entrance, reception area, waiting room, and exam rooms helps our clients remember fond memories and emotions—and forget all the negative feelings commonly associated with the dentist. All thanks to the power of scent.