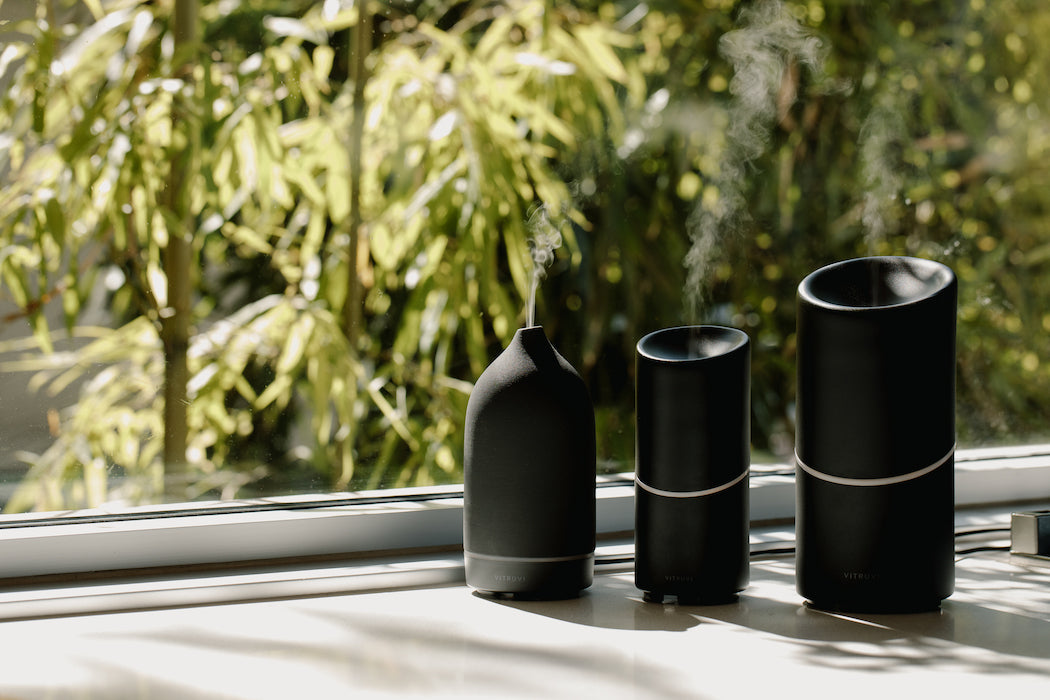 New to the world of diffusing? Welcome! It's a fun place to be.
If you're not sure what type of essential oil diffuser to get, let us be your guide.
Types of essential oil diffusers
There are many types of essential oil diffusers, but one of the most popular and effective is ultrasonic. Here at vitruvi, we have a few types of ultrasonic essential oil diffusers, each with different features.
Stone is our classic ultrasonic diffuser, which has a matte ceramic finish that makes it look like a piece of decor. Move is our cordless ultrasonic diffuser, allowing you to scent every corner of your home without the use of a plug (and it easily recharges with a simple charging pad). Stay is our long-lasting ultrasonic diffuser, able to scent your largest rooms for 18 hours. There's truly a diffuser for every home—and every room within a home.
What is an ultrasonic essential oil diffuser?
An ultrasonic essential oil diffuser emits no heat and is run through vibrations. Because of this, the plastic, water, and oils are not heated while diffusing, and the plastic has no interaction with the essential oils. This preserves the quality and integrity of the oils—giving you a better scent, and a better home scenting experience. A win-win, really.
What essential oil diffuser should you give as a gift?
Essential oil diffusers make great gifts for everyone on your list. Because they make it easy to switch aromas based on the user's mood, they are essentially completely customizable home scenting tools that fill any space with natural, safe, and beautiful scents.
The Stone Diffuser is made of matte ceramic, meaning it looks like a piece of pottery on shelves, counters, and tables. It's great for the super design-minded person on your list. The Stay Diffuser is large, and can scent big rooms for 18 hours without a refill; it's great for the person on your list who likes to set it and forget it. And the Move Diffuser is cordless, meaning it easily goes from room to room and does not require a plug to be used; it's great for the busybody on your list: perhaps someone who's chasing a toddler from room to room.
No matter which one you choose, with an essential oil diffuser, you're sure to solidify your place in the present hall of fame. Gift one to yourself while you're at it—you deserve nice things, too.