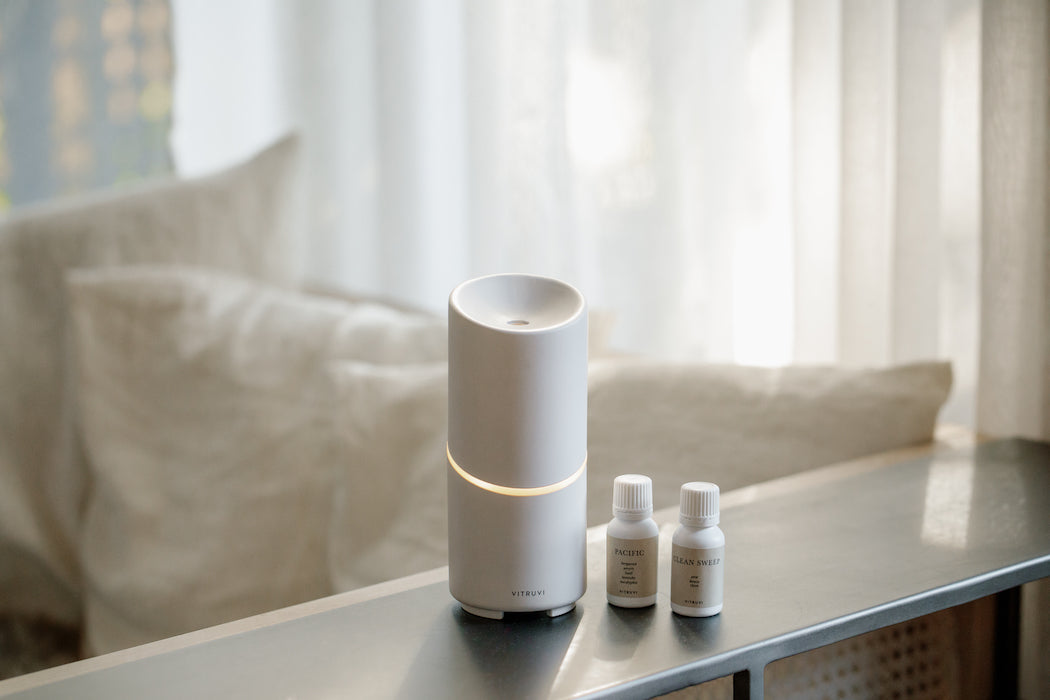 Looking to buy an essential oil diffuser? Look no further. Here at vitruvi, we make high-quality essential oil diffusers to make it easy to scent your home naturally.
Essential oil diffusers are a great way to add aroma to your space. Using 100% pure essential oils, they diffuse relaxing, grounding, energizing, and soothing scents that are safe to breathe in on a daily basis. And instead of having to pick one aroma and stick to it, diffusers make it easy to change your scent depending on what you're in the mood for. Simply fill your diffuser with water and your preferred essential oils, turn it on, and enjoy.
The best features to look for in a diffuser
Every essential oil diffuser is a little bit different. Here are the best features to look for:
Ultrasonic: this means that it uses vibrations instead of heat, which preserves the quality of the oils. All vitruvi essential oil diffusers are ultrasonic.

Multiple run times: our diffusers have multiple run times, allowing you to decide on the timeframe that works best for you at any given moment.

Beautiful: a diffuser's form is as important as its function. Look for a diffuser with impeccable design that fits into your existing decor. Our Stone Diffuser is our classic model, with a matte ceramic finish that looks like pottery. Our Move and Stay diffusers have a matte metal finish with a more contemporary curved design.

LED light: easy to turn on and off, an optional LED light can set ambience in your space with the touch of a button.
From AM to PM, a diffuser keeps your space smelling just how you like it.