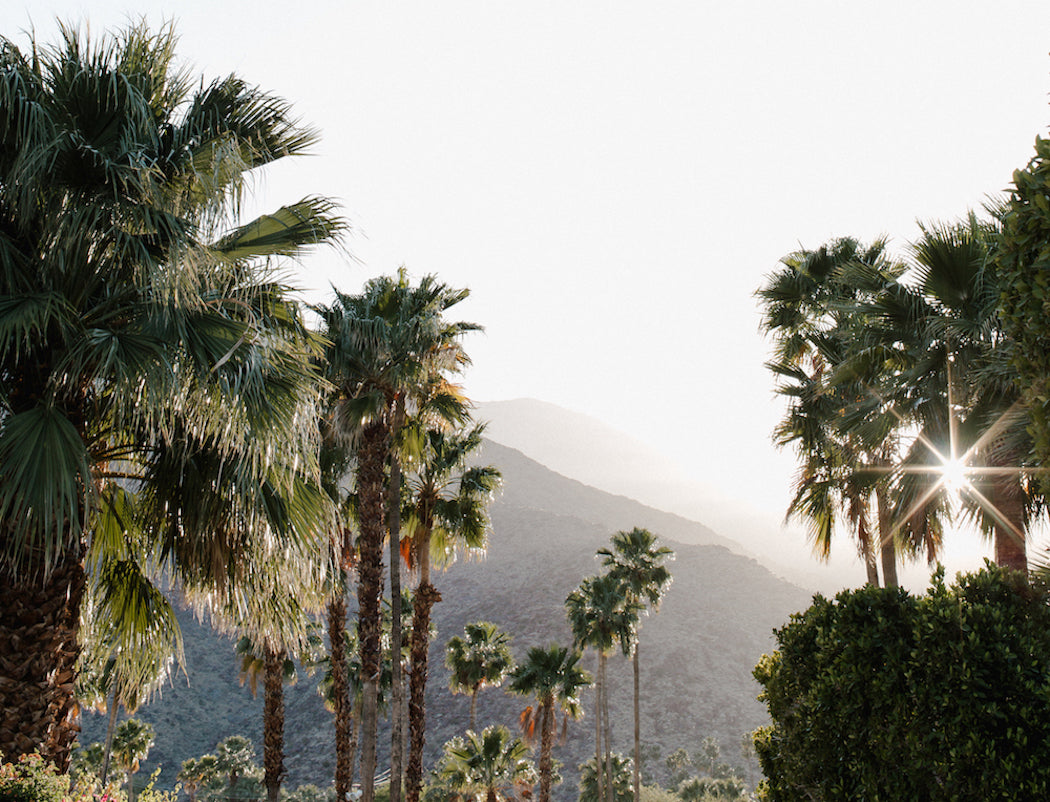 Scent has such a powerful tie to memory, and often when we think of cities we've visited or beaches we've relaxed on, there's a distinct aroma that can take us right back to that place. So enjoy these mini escapes, created by the vitruvi team, from the comfort of your own space.
Alex Falconer, creative lead
Palm Springs is my happy place. I've been going there now for eight years, and there's something so beautiful about the desert. The smell and feeling of the warm, dry air instantly puts my mind at ease. For this blend, I combined Cedarwood for that smoky, desert element, while Eucalyptus reminds me to take a deep breath. There are so many orange trees in Palm Springs and the smell of freshly-squeezed citrus takes me right back to quiet mornings…or to happy hours (blended orange margaritas are a game-changer).
DIFFUSER COCKTAIL: PALM SPRINGS
5 drops Cedarwood Essential Oil
3 drops Eucalyptus Essential Oil
3 drops Sweet Orange Essential Oil 

Sara Panton, co-founder and CEO
When I travelled to Morocco I fell in love with the fresh mint tea. It's made with green tea, fresh mint leaves, sugar, and honey. It's a morning ritual I wholeheartedly adopted while I was there, and this sweet yet fresh aroma takes me right back to wandering the Marrakech markets with my mint tea in hand. For the blend, I included Peppermint and Rosemary for the herbal, minty notes, and Lemon for freshness and a hint of sweetness.  
DIFFUSER COCKTAIL: MARRAKECH
6 drops Peppermint Essential Oil
5 drops Lemon Essential Oil
4 drops Rosemary Essential Oil
Steph MacDonald, director of stores
Growing up, I would spend my summers at my grandparents' cabin on a quiet strip of the Sunshine Coast in British Columbia. After a quick ferry crossing and a drive down the tree-lined highway, I'd soon be greeted by the rocky shoreline, salty air, and big blackberry bushes. Channeling the nostalgic scent of the warm ocean breeze and lush coastline, I added Spruce for a warm and comforting (grandparents = comforting) scent, along with Eucalyptus to keep it fresh and herbal. To top it off, I added one of my personal favourites—Grapefruit—to round the blend off with a bright and summery feel.
DIFFUSER COCKTAIL: SUNSHINE COAST
6 drops Eucalyptus Essential Oil
6 drops Spruce Essential Oil
8 drops Grapefruit Oil

Rita Ovis, social media coordinator
I once spent two weeks hiking through Iceland. Vehicle-less, I got to know the country in a slower, more intimate fashion. I started and ended my trek in Reykjavik, where I could take time to rest and indulge in the comforts that the Icelandic lifestyle had to offer. This blend is my way of recreating the peacefulness that Reykjavik brought at the bookends of my trip. Lavender is for the cups of warm lavender tea I enjoyed in the evenings with the sun still high in the sky during summer solstice. Cedarwood is for the saunas by geothermal pools, and Tea Tree is to give the blend a freshness, to represent the crisp and cool air of Iceland.  
DIFFUSER COCKTAIL: REYKJAVIK
6 drops Lavender Essential Oil
6 drops Cedarwood Essential Oil
3 drops Tea Tree Essential Oil

Simone Beadle, director of partnerships and experience
I spent four weeks travelling through the gorgeous country of Kenya, where I saw so many beautiful places, met amazing people, and saw some of the most breathtaking landscapes of my life. The place that stayed with me most was a little cabin in Mount Kenya. A short hike away was the most gorgeous waterfall, and this waterfall brought so much peace and serenity to me. The fresh scent of Eucalyptus, paired with the sharpness of Spruce, completely captures this landscape. Mixed with the freshness of Lemon and the floral notes of Geranium, I feel like I'm right back in my favourite place.
DIFFUSER COCKTAIL: MOUNT KENYA
7 drops Eucalyptus Essential Oil
6 drops Spruce Essential Oil
4 drops Geranium Essential Oil 
3 drops Lemon Essential Oil 
These should help curb your wanderlust until your next trip takes you up, up, and away.