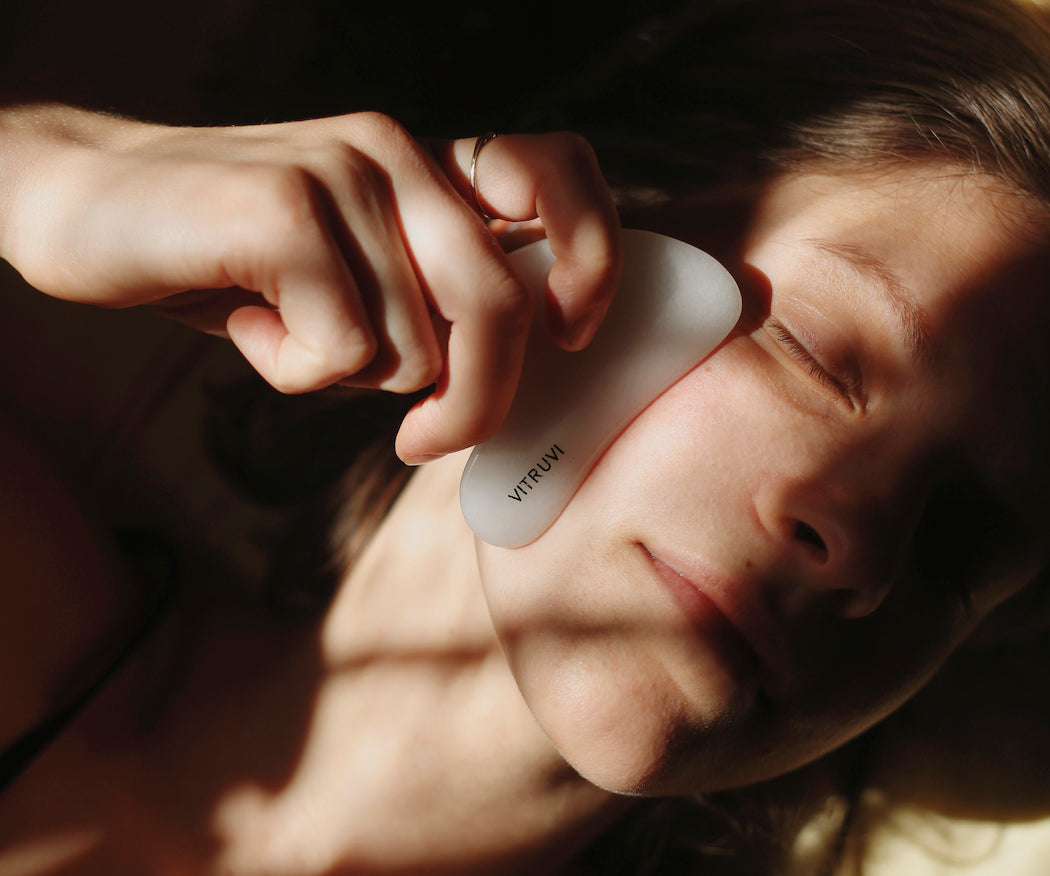 To all the jade rollers sitting on bathroom counters or nightstands out there: we still love you. It's just that...you're not the only facial massage tool in our lives anymore.
Enter: gua sha, the latest trend to take over the beauty and skincare industry. Gua sha is actually an ancient Chinese practice that involves massaging and scraping the skin to increase circulation, break up fascia, and relieve muscle tension and pain. It was originally performed with all sorts of tools (antlers, horns, stones—you name it), but the method we see today is much more gentle, with a tool made of jade or rose quartz that is shaped like a little dolphin fin. You might be wondering how gua sha differs from jade rolling—it is just more powerful. You can play around with the edges, angles, directions and speeds in more ways than with a jade roller.
As much as gua sha does for morning skin (de-puffs, contours, gives a glow), we also love it as a nighttime ritual incorporating a face oil. It is meant to move around stagnant energy, also known as qi, that can build up after a stressful day. So, next time you get home after an exhausting afternoon (or maybe you just a hangover that extends into the evening), try applying your face oil the really old-fashioned way.
GUA SHA FACE MASSAGE OIL
BASE OlL
13 droppers Hemp Seed Oil
COMPLEX OILS
3 droppers Evening Primrose Oil
3 droppers Rosehip Oil
ESSENTIAL OILS
5 drops Geranium Essential Oil
5 drops Bergamot Essential Oil

Directions
Mix all the oils in a 15-ml dropper bottle.

Make sure to start with cleansed skin. You can warm up the gua sha tool in your hands, then apply the oil directly to 

your

 face and lightly pat it in.

The gua sha massage involves sweeping movements (three times back and forth on each section should do):

Sweep from the middle of your chin over your jawline to the bottom of your earlobe.
Sweep along your cheekbone. 
Sweep from the inner corners of your under-eye to your hairline (very gently!).
Sweep along your eyebrow towards the top of the ear.
Sweep from the middle of your forehead upwards towards the hairline.
Make sure to try it on both sides of your face. It should feel very relaxing, making it a great way to decompress.